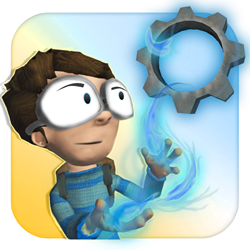 Dallas, TX (PRWEB) August 15, 2013
Vellum Interactive today announced the release of their newest mobile game: Telekinesis Kyle. Help Kyle figure out how to use his special talents to escape a sinister mountain fortress and uncover an evil secret. Telekinesis Kyle is a story-driven puzzle game, available to download for free on Google Play and the iTunes App Store.
When Kyle's telekinetic powers were discovered, he was sent away to a school for gifted children. The 'school' turned out to be nothing more than a front for an evil experiment to take over the world. Help Kyle escape his captors and reach freedom by harnessing his telekinetic powers to move obstacles, solve challenging puzzles and flee the mountain fortress. Run through mysterious hallways, move boxes and evade lasers, all while exploring the rich environment in which the game is set.
"Our goal was to make the most immersive game possible on a mobile device," said Brian Reinhart, programmer and studio head at Vellum Interactive. "Our definition of immersion means creating a game with a strong story, natural controls and artistically engaging visuals."
Telekinesis Kyle features 27 individual puzzles that are closely tied to Kyle's story of discovery and survival. Follow @TelekinesisKyle on Twitter to learn more about Kyle's experience and ask him for hints on how to solve the hardest puzzles.
Features include:

Play free before you buy. Experience the first seven levels and learn how to manipulate Kyle's telekinetic powers to save the world.
Features a visually stunning, console-quality puzzle platformer with a new type of game play mechanic.
Hand drawn comic book sequences tell the story of Telekinesis Kyle and his amazing escape.
Level up by completing the puzzles, but do it quickly and earn more Game Center achievements.
27 unique levels with in-game video and story-line throughout. Help Kyle escape a prison and maybe even save the world.
Tweet @TelekinesisKyle for game hints.
Download the app now on iTunes or Google Play.
For more information please check http://velluminteractive.com/ and follow Vellum Interactive on Facebook and Twitter. Keep an eye out for the Telekinesis Kyle comic book, coming soon.
About Vellum Interactive, Inc.:
Vellum Interactive, Inc. is a small, independently-funded game studio based out of Dallas, Texas. They create games they want to play. Their motto is simple: If we don't like them, you won't like them!