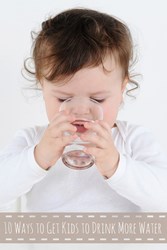 Ensure that the fridge is stocked with water instead of soda.
Dallas, Texas (PRWEB) August 17, 2013
About 64% of kids leaving for school are not sufficiently hydrated. Over 10 ways to get kids to drink more water have been released on Kids Activities Blog. These and lots of helpful Mom advice has been published by seasoned Moms.
Tips to remind kids to drink more water include leading by example. Ensure that the first thing everyone has for breakfast includes a cup of water. Making water easily available and accessible in for example the fridge ensures that the busy kids will grab a water bottle first instead of a soda lurking in the fridge.
Packing water bottles in the lunch box, for car rides, sports, and trips will ensure that the kids (and adults) have enough supplies throughout the day.
Making fruited water stations, explaining the wilted plant phenomena, and showing that the body is mainly made up out of water will instill in the young ones the need for water consumption.
Other helpful Mom advice listed on Kids Activities Blog includes tips to raising readers and tips how to get along especially in households with many siblings. Other helpful tips include coping with sleep deprivation, implementing a routine of kids chores, and lots of ways to keep toddlers busy and happy.
For detailed instructions and to get additional helpful tips, check out Kids Activities Blog this week. Come get inspired to get some great advice from seasoned Moms that will help run a smoother household.
About Kids Activities Blog
Kids Activities Blog is a website created by two moms (who collectively have 9 children), Rachel Miller and Holly Homer from June Cleaver Nirvana. It is their daily goal to inspire parents and teachers to play with kids. This interactive website publishes simple things to do with kids twice a day. Kids Activities Blog is a great tool for moms and teachers to find kid-friendly activities that create memories and sneak learning into the fun.