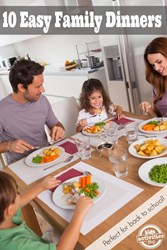 Quick and simple dinner recipes from seasoned Moms perfect for back to school.
Dallas, TX (PRWEB) August 19, 2013
Back to school easy family dinners have been published on Kids Activities Blog. After considering about a gazillion things when preparing the kids for their first day back to school, the one thing that is often forgotten is what to actually feed them once they get back home.
The gallery of easy family dinner recipes includes a 2 minute chicken recipe, a crockpot ravioli recipe, a delicious Cheeseburger Runza, and honey lime chicken enchiladas. A super healthy dinner makes a seafood gumbo that is both delicious and fast to make.
The bacon cheeseburger eggrolls will sure turn out to be the next family favorite as well as the PF Chang`s lettuce wrap copycat recipe. Dinner does not have to take long to prepare with these easy and simple recipes. Do not skip out on the nutrition as well.
Fun ways to play with food have also been released on Kids Activities Blog. Mom and Dad are not usually on board when kids get the urge to play with their food. Here are a few tips that will keep everyone in check.
The tips include creating sensory bins with pasta or rice. These bins are perfect for the little ones who enjoy the sound and feel of the different foods. Playing with alphabet pasta is another great way to sneak in a bit of learning while having a blast.
Other ideas include a gallery of apple games, creating DIY scented play dough, and decorating pumpkin cookies or all sorts of yummy sweets.
For detailed instructions and to get additional dinner recipes or fun ways to play with food, check out Kids Activities Blog this week. Come get inspired to cook yummy healthy food in a flash.
About Kids Activities Blog
Kids Activities Blog is a website created by two moms (who collectively have 9 children), Rachel Miller and Holly Homer from June Cleaver Nirvana. It is their daily goal to inspire parents and teachers to play with kids. This interactive website publishes simple things to do with kids twice a day. Kids Activities Blog is a great tool for moms and teachers to find kid-friendly activities that create memories and sneak learning into the fun.