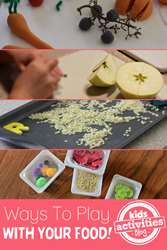 Create sensory bins filled with all kinds of goodies.
Dallas, Texas (PRWEB) August 20, 2013
Mom and Dad are usually not on board when the kids feel the urge to play with food. Seasoned Moms are sharing 5 fun ways to play with food that keeps everyone happy and a gallery of back to school easy family dinners.
The fun ways to play with food include making little sensory bins in empty baby food containers with rice, pasta or other food items. The little ones will love to empty and refill the various containers filled with different items.
Making deliciously scented produce play dough to play super market produce department will turn out to be the kids favorite activity. Playing with alphabet pasta will sneak in a bit of learning while having a blast. Other ideas include decorating delicious pumpkin cookies or all kinds of sweet treats, and lots of fun ways to play with apples.
The list of back to school easy family dinner recipes includes a delicious 2 minute chicken dish, a yummy crockpot ravioli recipe, bacon cheeseburger eggroll dish, honey lime chicken enchiladas, and a quick and healthy seafood gumbo. Delicious healthy dinners do not have to take a long time to prepare according to Moms on Kids Activities Blog.
For detailed instructions and to get additional tips to play with food and easy dinner recipes, check out Kids Activities Blog this week. Come get inspired to have a healthy and happy family dinner tonight.
About Kids Activities Blog
Kids Activities Blog is a website created by two moms (who collectively have 9 children), Rachel Miller and Holly Homer from June Cleaver Nirvana. It is their daily goal to inspire parents and teachers to play with kids. This interactive website publishes simple things to do with kids twice a day. Kids Activities Blog is a great tool for moms and teachers to find kid-friendly activities that create memories and sneak learning into the fun.