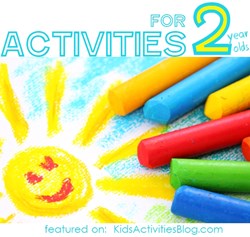 Two year olds seem to have a boundless amount of energy. How about creating foam plates and play baskets to let them have a blast?
Dallas, Texas (PRWEB) August 21, 2013
Two year olds love to be kept busy with all sorts of things. Seasoned Moms are sharing over 40 activities for two year olds and a cute DIY tic tac toe game idea that will be treasured for years to come.
Two year olds love to do and create. They seem to have a boundless amount of energy. The activities are divided into developmental, creative, simply silly, and just for fun activities. The ideas range from exploring chemical reactions with baking soda and vinegar, to making snack necklaces out of vegetables, to jaming to homemade musical instruments, and to making foam filled plates full of fun and surprises.
Activities that help to learn motor skills and other developmental milestones include making a bracelet out of cut up straws, practicing balancing on a plank of wood, playing in the kitchen, and creating lots of play baskets.
A fun DIY tic tac toe game idea includes letting the kids paint their own pet rocks. Let the children draw with chalk a tic tac toe board on the sidewalk. Tic tac toe is a great game that not only teaches sportsmanship but it also helps to develop strategic thinking in young minds.
For detailed instructions and to browse through the laundry list of activities for two year olds, check out Kids Activities Blog this week. Come get inspired to let the kids have a blast while sneaking in a bit of learning into all the fun.
About Kids Activities Blog
Kids Activities Blog is a website created by two moms (who collectively have 9 children), Rachel Miller and Holly Homer from June Cleaver Nirvana. It is their daily goal to inspire parents and teachers to play with kids. This interactive website publishes simple things to do with kids twice a day. Kids Activities Blog is a great tool for moms and teachers to find kid-friendly activities that create memories and sneak learning into the fun.