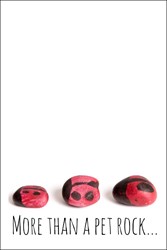 Take the classic tic tac toe game to another level by using pet rocks.
Dallas, TX (PRWEB) August 22, 2013
Tic tac toe not only teaches great sportsmanship but it develops strategic thinking in young minds. A creative DIY tic tac toe game together with a gallery of over 40 activities for two year olds have been released on Kids Activities Blog.
Materials needed for the DIY tic tac toe game are rocks, acrylic paint, paint brushes, and sidewalk chalk. Start out by letting the kids collect 5 smooth rocks and let them think about a cool design for each players rocks. Paint the 5 rocks with the design of his or her choice. Draw a tic tac toe board on the sidewalk and keep score by writing each players name and score on the side of the tic tac toe board.
Among the laundry list of over 40 activities for two year olds are shaping letters out of play dough, exploring chemical reactions with baking soda and vinegar experiments, making a fruit or veggie snack necklace and eating it, playing and making foam plates, and getting some PVC pipes and making tubes for toddlers.
Simply fun activities include making glitter slime, getting creative with a spray bottle of paint, playing with edible jewels, creating a floating flower bouquet, and making and playing with sensory bags.
For detailed instructions and to get additional fun game ideas, check out Kids Activities Blog this week. Come get inspired to let the kids have a blast while sneaking in a bit of learning.
About Kids Activities Blog
Kids Activities Blog is a website created by two moms (who collectively have 9 children), Rachel Miller and Holly Homer from June Cleaver Nirvana. It is their daily goal to inspire parents and teachers to play with kids. This interactive website publishes simple things to do with kids twice a day. Kids Activities Blog is a great tool for moms and teachers to find kid-friendly activities that create memories and sneak learning into the fun.