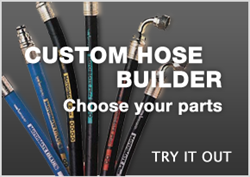 Choosing the right hose is important when it comes to hydraulic systems. The wrong fit or pressure capacity could lead to leaks
Rancho Cucamonga, CA (PRWEB) August 16, 2013
A new custom hydraulic hose builder application has been launched on Bernell Hydraulics' website to provide customers with the ability to order the right part the first time. The application offers a number of tools that simplify the hydraulic hose selection process so that customers can be confident the part they order will meet their needs.
Choosing the right hose is important when it comes to hydraulic systems. The hoses carry the hydraulic fluid to different components in the system and need to be able to withstand pressure, hot or cold temperatures and carry the kind of hydraulic fluid that is being used. The wrong fit or pressure capacity could lead to leaks, wasted fluid and potential damage to the system. With so many different factors to take into account, picking out the right hose can be a challenge.
Bernell Hydraulics is helping customers avoid these potential issues with a new custom hydraulic hose builder on its website. The application is easy to use and with a few simple selections, a client can quickly find the hydraulic hose that works with their system. The customer begins by determining the size of hose they need, the pressure the hose needs to be able to handle and the temperature that the hose must withstand.
Once they have this information, the customer then goes to the web application and selects the right parameters under their respective tabs. Clicking on the "STAMP Search" button will then bring the customer to a search result where they can click on the picture of the part to learn its parameters such as:

Certification
Application
Inner Tube
Reinforcement
Cover
Temperature range
If the customer has questions or concerns, they can contact Bernell Hydraulics directly. Once the customer has verified this is the right part their system needs, they can click on "Submit My Request" to order it.
Customers will be able to build hydraulic hoses for their specific system with confidence and avoid making a mistake that could take up valuable time and profits. Bernell Hydraulics offers a variety of payment methods and a streamlined shipping process. Call or visit Bernell Hydraulics today.
To access the custom hoses builder, simply go to http://www.bernellhydraulics.com/hose-builder/ .
About Bernell Hydraulics
For almost 40 years, Bernell Hydraulics has been providing businesses in the Inland Empire area with hydraulic equipment, maintenance, and service. Customers enjoy 24 hour field service specialists to address unexpected breakdowns in their equipment, regardless of whether the equipment is at a facility or at an onsite job. They are also a full-service fluid power distributor, building and servicing high quality power units, commercial compactors, presses, and electronic and pneumatic control equipment. For more information, please visit their website at: http://www.bernellhydraulics.com .
Contact information
Bernell Hydraulics, Inc. (Headquarters)
Retail Store
8810 Etiwanda Ave. Rancho Cucamonga, CA 91739
Local: (909) 899-1751
Toll Free: (800) 326-7252