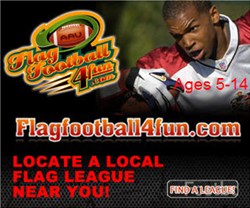 "Our goal isto get players enjoying the safe flag football experience while being encouraged by their team and their parents," said Reginald Grigsby, founder of FlagFootball4Fun. "If we can make it fun and keep kids safe, then we've accomplished our goal."
Orlando, FL (PRWEB) August 15, 2013
It's got all the fast-paced action of football, without the bone-jarring tackles and risk of injury that comes with traditional football - and registration is happening right now until September 8th for all Orlando metro-area leagues.
FlagFootball4Fun is the local organization offering Orlando-area boys and girls, ages 5-16, the chance to experience NFL Flag Football. This NFL Flag-sanctioned league offers the fun and fast-paced, 5-on-5, non-contact sport of flag football while emphasizing skill development, fitness, teamwork and good sportsmanship. It's also a great way to introduce kids to football for parents and guardians who worry about the risk of injury and player safety.
Each registration fee of $99-$129 includes one reversible NFL Flag replica jersey, which players get to keep, and one belt and pair of flags which players will use for the entire season. No other equipment such as helmets or pads, are required for participation in the NFL Flag Football League. Cleats are optional, but not required.
Many parents prefer youth flag football as a safe alternative to full-contact, tackle football. Every year, the news brings parents renewed concerns over the safety of tackle football with stories of tragic injuries that occur even though tackle football participants wear head and body protection. None of that is a concern with flag football and parents are making the migration to flag football to ensure the safety of their children.
Registration is easy and can be done online at FlagFootball4Fun.com. Once teams are formed, coaches will contact players and provide a link to an online team schedule that outlines dates for games and practices. League play happens each Saturday, and most teams meet and practice once per week prior to each scheduled one-hour game times. Team sizes are kept at around 8-12 children. The season consists of practice weeks, regular-season games, and an end of season playoff jamboree where all teams play in a single elimination playoff format.
About FlagFootball4Fun
FlagFootball4Fun goes the extra mile to provide the best experience possible to program participants. Since 2005, the league has grown from a single location with 100 kids, to 5 locations serving nearly 5,000 families throughout Florida and Texas. The FlagFootball4Fun mission is to provide safe and enjoyable youth sports league for all program participants supported by positive coaching and an environment where all children are given the opportunity to succeed and engage in a healthy activity. For more information, visit FlagFootball4Fun.com.