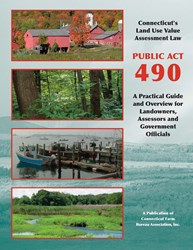 If used correctly, PA 490 facilitates a partnership between landowner and assessor and is a smart growth tool.
Windsor, CT (PRWEB) August 20, 2013
The protection of farmland, forest land and open space is vital to the future of Connecticut for both food security and natural resource preservation. However, these lands have fallen under the increased pressure of urban development and rising property taxes. Connecticut Public Act 490 (PA 490) was created to help reduce this pressure by allowing these types of lands to be taxed by municipalities at a rate that reflects their current use, rather than the highest possible value. Connecticut Farm Bureau is holding a series of seminars statewide to help explain PA 490 and how the law is applied.
Connecticut Farm Bureau will conduct three seminars on PA 490. There is no cost to attend. Attendees will get an overview of PA 490, understand how land is classified under the program, what its limitations and restrictions are, and how landowners can work with their local assessors to have their property classified under the program. Locations are:

Sept.12, 2013 6:00 - 8:00 pm, Lebanon Fire Safety Complex 23 Goshen Hill Road, Lebanon, CT
Sept. 17, 2013 6:00 - 8:00 pm, Memorial Hall Main Street, Bethlehem, CT ,
Sept. 24, 2013 6:00 - 8:00 pm, Connecticut Farm Bureau Association 775 Bloomfield Avenue, Windsor, CT
"Since PA 490 was enacted, The Connecticut Farm Bureau has become the trusted resource for municipalities and landowners when it comes to understanding how the program works," says Joan Nichols, Director of Member Relations and Community Outreach with the Connecticut Farm Bureau. "For more than a quarter century, we have published and distributed a guide to PA 490 and have worked with landowners, assessors, government officials, and others to help them understand how the law works and how it can be used to preserve open space and help towns receive a fair assessment value for properties.
"Since PA 490 was passed in the 1960s, there have been a number of court cases that have further clarified the way the law works," says Nichols. "If used correctly, PA 490 facilitates a partnership between landowner and assessor and is a smart growth tool, preserving open space lands that not only add intangible aesthetic value to a town, but also contribute more tax money than they consume in town services. However, to be effective, towns and landowners need to have a full understanding of the program. Our seminars will go a long way to help everyone better comprehend this important law."
The seminars are open to all, and no reservation is needed. To download a copy of the PA 490 guide, visit http://cfba.org/pa490guide.htm, and additional questions about the seminars should be directed to the Connecticut Farm Bureau at (860) 768-1100.
About the Connecticut Farm Bureau Association
Since 1919, The Connecticut Farm Bureau Association has provided a strong, clear voice in state agricultural issues. As a non-governmental, voluntary organization of farm families, the Connecticut Farm Bureau is united to find solutions for concerns facing production agriculture in our counties, state and nation. Volunteer leaders and staff work closely with state and federal regulatory agencies and elected officials on issues ranging from economic viability, property rights, taxation, land use planning to labor laws and farmland preservation. For more information, visit http://www.cfba.org.