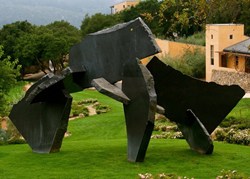 San Francisco, CA (PRWEB) August 15, 2013
Effective August 23, 2013, former Soutirage wine consultant Renee Kuo will be assuming a new role as General Manager for Seven Stones Winery in St. Helena, California. Nestled above the Meadowood Resort in St. Helena, Seven Stones Winery is committed to remaining a boutique, estate winery and prides itself on producing no more than a few hundred cases of the highest quality wine each year. Former Seven Stones sales consultant Roy Piper will be stepping down to pursue his own winemaking endeavors, in which owner/founder Ron Wornick and everyone at Seven Stones wish him well.
"After a year and a half at Soutirage working with some of the finest wine talent in the Valley, I am excited and honored to join Seven Stones as General Manager," says Kuo. "The opportunity to work with winemaker Aaron Pott and the Piña vineyard management team to direct the future of the amazing property Ron and Anita Wornick established was one I absolutely could not turn down."
Renee's responsibilities in her new role will encompass everything from maintaining and growing the client base, overseeing the wholesale and consumer sales channels, developing the Seven Stones brand, and determining the annual budget and goals for the winery. In addition, Renee will directly and personally schedule and conduct all on-site tours and tastings. Renee can be reached at renee(at)sevenstoneswinery(dot)com.
About Seven Stones Winery:
Named after the massive granite sculpture that dominates the estate, Seven Stones Winery is a 45-acre winery estate nestled within the Meadowood Resort in St. Helena. The undeveloped plot was originally purchased as a family estate by Owners/Founders Ron and Anita Wornick. The single acre of Cabernet Sauvignon was planted in 1996, with a plan to build a jewel-box winery with recreational family winemaking in mind. Over time, it became evident that the property, surrounded by some of Napa's most prized vineyards, possessed the well-drained, rocky, volcanic soils that would produce world-class wine. Aaron Pott was hired as winemaker, while Pinã Vineyard Management was hired to tend the vines. Their inaugural release, the 2005 Seven Stones Cabernet Sauvignon, received high critical praise and sold out quickly, coaxing them to add a few more Lilliputian vineyard blocks and upgrade the winery so that they could produce the highest possible quality out of their exceptional "terroir." Seven Stones produces roughly 250-500 cases each vintage and is the end result of the meticulous efforts of the entire vineyard and winemaking team. The three acres of vineyards produces a singular Cabernet Sauvignon of striking complexity, deep concentration and substantial structure.
Visit Seven Stones Winery at: http://www.sevenstoneswinery.com/ .