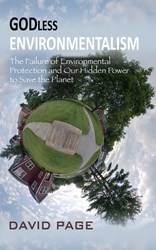 "I realized that we had been ignoring the profound message that the One who created and maintains the world had implanted into nature: The world has a spiritual foundation to which we must strive to connect to heal ourselves and our planet." - David Page
New York, NY (PRWEB) August 19, 2013
Sometimes life takes unexpected turns. For one graduate of the Ivy League and elite law school in the US, a search for meaning and a love of nature led to a journey into ancient theological research that uncovered an unexpected treasure: the spiritual keys to protecting the environment and humankind.
The author of the newly released book GODless Environmentalism: The Failure of Environmental Protection and Our Hidden Power to Save the Planet, David Page, from his teenage years had an interest in nature and environmental protection. Every year he would hike the Colorado and Idaho Rocky Mountains with his family. He loved botany and geology. And unsurprisingly, his first summer job in law school was an internship in Anchorage, Alaska dealing with clean water issues. David was president of his law school's environmental law society. Yet he came face to face with a persistent problem: Despite the popularity of environmental protection, many environmental laws and policies were ineffectual. Environmental degradation was on the rise. "Despite the popularity of the environmental movement, everyone involved in the movement knew there was something wrong," David remembers, "but policy-makers worldwide seemed to continue to pursue policies that weren't getting results."
David's interest in environmentalism soon were put on the back burner. He was on a fast track to becoming part of the Washington Beltway's power elite. At first, he pursued the Washington fast track enthusiastically. He had graduated from Harvard University with a full scholarship for post-graduate studies in Germany. After that, he had studied law with Barack Obama and other members of his future administration at the University of Chicago Law School and learned to consider policy through economic lenses from professors like Judge Richard Posner and Cass Sunstein. David then did what elite law school graduates typically do, clerking for the federal court of appeals and signing up with one of the largest and most prestigious Washington law firms.
But that is where it ended. Or rather, where something new began. David left the predictable behind. He bade an unexpected farewell to a tried-and-true career-path as a Beltway insider. In 2003, after spending two years in DC, he switched gears entirely and moved half way across the world.
David traveled to the Holy City of Jerusalem and began intensive and largely self-motivated research into ancient theological and sacred texts, while supporting himself by working in his profession. He hadn't forgotten the aspiration to heal the world and protect the beauty of nature. He spent hours every day hunched over manuscripts written in ancient languages in the recesses of one of the oldest and most illustrious rabbinical seminaries in the world and one of the few that had been spared the fires of the Holocaust, probing the hidden and often overlooked wisdom of sages whose words had been passed on by a small number of theological scholars over thousands of years. David realized after a decade of study that that ancient wisdom held the keys to the survival of planet earth. "It was as if someone turned on a light that illuminated the spiritual structure of the planet," David says, "I realized there was a faith-based dimension to environmentalism that had been ignored."
The result of the merging of David's ancient and modern studies is breath-taking. After a decade in Jerusalem, David Page published GODless Environmentalism: The Failure of Environmental Protection and Our Hidden Power to Save the Planet. The newly released book combines an expert, detailed, and informed critique of current environmental protection policy with deep spiritual insights about the nature of planet earth, humanity, the environment, and nature itself. GODless Environmentalism demonstrates the harm caused by ignoring the spiritual foundations of the planet while pointing the way forward towards a spiritual reconnection of planet earth to the infinite Power that created and maintains it.
This profound book is a must-read for any person of faith who wants to understand the divine foundations of nature and for any environmentalist who seeks a deeper understanding of the environment and planet earth. Learn what David learned about the spiritual connection that contains our hidden power to save the planet.
Sometimes, you have to start from the beginning.
On sale at Amazon (including Kindle), Barnes & Noble, WHSmith, and Other Fine Stores, in Hardcover, Paperback, and eBook Formats.
Visit http://www.godlessenvironmentalism.com, subscribe to the "Godless Environmentalism" YouTube channel http://www.youtube.com/watch?v=T4mDT1WaAqo and http://www.youtube.com/watch?v=VDI5oLBYFPQ, and "Friend" the book on Facebook to learn more about the genuine spiritual approach to environmental protection.