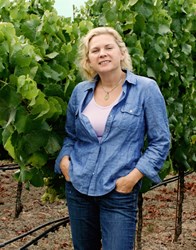 Santa Rosa, California (PRWEB) August 16, 2013
Benovia Winery is pleased to name Jen Walsh as its new Assistant Winemaker.
Jen will be working alongside Benovia Winemaker Mike Sullivan to craft the Russian River Valley vintner's award-winning portfolio of Pinot Noir, Chardonnay and Zinfandel wines.
"I'm really thrilled to be working with Mike and Benovia's vineyard designate Pinots," Jen said. "Mike's hands-on approach is the essence of great winemaking and I know I'm going to learn a lot while contributing all I can to the day-to-day operations and winemaking process."
Most recently serving as Enologist for Miner Family Winery in Oakville, CA, Jen brings a decade of impressive industry credentials and an in-depth knowledge of wine to the Benovia winemaking team.
After graduating from University of California at Davis with a master's degree in viticulture and enology, Jen worked her way up the ranks at a number of notable California wineries.
Jen has also served as a vineyard and cellar hand for wineries in New Zealand and Chile and won a Tastevin scholarship to intern at Domaine Marquis D'Angerville in Burgundy while completing her studies at UC Davis.
"Jen's a great fit for our winery," commented Mike Sullivan. "She brings a tremendous amount of passion and experience to Benovia."
A native of Baltimore, Jen's early love of wines and viticulture took root while working summers at her uncle's restaurant on North Carolina's Outer Banks and quickly grew into a new career direction after spending nearly a year assisting a small family winery in Mt. Airy, MD.
Jen lives with her husband and three children in Napa Valley. Her hobbies include "just about anything that gets me outdoors." Jen is almost as passionate about her home gardening as she is about wine, but also enjoys more rigorous outdoor activities including cycling and hiking.
ABOUT BENOVIA WINERY
Founded by husband and wife team Joe Anderson and Mary Dewane and winemaker co-owner Mike Sullivan, Benovia Winery farms more than 72 acres of Pinot Noir, Chardonnay, and Zinfandel from estate vineyards in the Russian River Valley and Sonoma County. The name of the winery is derived from Joe and Mary's fathers' names, Novian Anderson and Ben Dewane. Established in 2005, Benovia's mission is to create iconic and thought-provoking "Grand Cru quality" Pinot Noir, Chardonnay and Zinfandel handcrafted wines. Benovia wines are sold through an allocation system direct to customers as well as distributed to select restaurants nationwide. Total annual production is approximately 5,000 cases. Winery tastings and tours are available daily by appointment. Benovia Winery, 3339 Hartman Road, Santa Rosa, CA 95401. (707) 526-4441. http://www.BenoviaWinery.com