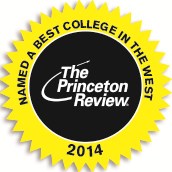 Santa Fe, NM (PRWEB) August 15, 2013
The Princeton Review, an education services company widely known for its guides to college and graduate school, named Santa Fe University of Art and Design (SFUAD) as one of the "Best in the West" universities in its regional rankings, "2014 Best Colleges: Region by Region."
"We're pleased to recommend these colleges to users of our site as the best schools to earn their undergrad degrees," said Robert Franek, Princeton Review's senior vice president/publisher. "We chose these as our 'regional best' colleges mainly for their excellent academic programs. From several hundred schools in each region, we winnowed our list based on institutional data we collected directly from the schools, our visits to schools over the years, and the opinions of our staff, plus college counselors and advisors whose recommendations we invite. We also take into account what students at the schools reported to us. Only schools that permit us to independently survey their students are eligible to be considered for our regional 'best' lists."
Collectively, the 643 colleges named "regional best(s)" constitute about 25% of the nation's 2,500 four-year colleges. The 124 colleges that The Princeton Review chose for its "Best in the West" list are located in 15 states: Alaska, Arizona, California, Colorado, Hawaii, Idaho, Montana, Nevada, New Mexico, Oklahoma, Oregon, Texas, Utah, Washington, and Wyoming.
"Third parties continue to recognize the quality and value of SFUAD's degrees," said Larry Hinz, president of SFUAD. "We are proud to be listed in The Princeton Review's 'Best Of' regional rankings. We add this to the recent recognition of the Film School by Variety magazine as a top 15 media program, Backstage Magazine for a top theatre program, and the book America's Best Kept College Secrets for a second consecutive year, among others. Respected sources are recognizing the success of our students and alumni, the high quality of our programs, the accomplishments of our award-winning faculty members and the exciting and dynamic campus life in Santa Fe."
The Princeton Review also asked students to rate their school on qualities such as accessibility of professors and quality of cafeteria food. They also asked students to answer questions about themselves, fellow students and their lives on campus. One SFUAD student surveyed said the school's true strength is in "bringing together the many different art worlds (film, theatre, music, photo, art) to network ideas and promote a more creative future." Another student noted that small classes allow students to "develop close relationships with their professors" and the art community in Santa Fe. "As an art student, I have been able to interact with the local art community in ways that wouldn't be as accessible in [big] cities," the student added.
An SFUAD undergraduate also described Santa Fe as a city with "a lot of great music, a lot of indie underground bands (both on campus and off), a lot of ways for students to showcase their own work, and loads of great galleries off campus." Another student further detailed that Santa Fe "has a plethora of book shops, museums, art galleries and coffee shops," as well as restaurants that are "amazing for such a small city," adding that the surrounding area offers "amazing fishing, skiing, hiking, climbing, etc." "There are endless outdoor activities to do in the southwestern landscape," another student observed.
More information about SFUAD can be found on The Princeton Review profile.
About The Princeton Review:
Founded in 1981, The Princeton Review (http://www.princetonreview.com) is a privately held education services company headquartered in Framingham, Mass. The Princeton Review has long been a leader in helping students achieve their education and career goals through its test preparation services, tutoring and admissions resources, online courses, and more than 150 print and digital books published by Random House, Inc. The Princeton Review delivers its programs via a network of more than 5,000 teachers and tutors in the United States, Canada and international franchise locations. The Princeton Review also partners with schools and guidance counselors worldwide to provide students with college readiness, test preparation and career planning services.
Media contacts for The Princeton Review include: Kristen O'Toole, The Princeton Review, 1-888-347-7737, ext. 1405, kotoole(at)review(dot)com; and Jeanne Krier, Princeton Review Books, 1-212-539-1350.
About Santa Fe University of Art and Design:
Santa Fe University of Art and Design is an accredited institution located in Santa Fe, New Mexico, one of the world's leading centers for art and design. The university offers degrees in arts management, contemporary music, creative writing, digital arts, graphic design, film, performing arts, photography and studio art. Faculty members are practicing artists who teach students in small groups, following a unique interdisciplinary curriculum that combines hands-on experience with core theory and prepares graduates to become well-rounded, creative, problem-solving professionals. As a Laureate International Universities Center of Excellence in Art, Architecture and Design, the university boasts an international student body and opportunities to study abroad, encouraging students to develop a global perspective on the arts. Santa Fe University of Art and Design is accredited by The Higher Learning Commission and a member of the North Central Association, http://www.ncahlc.org.
# # #