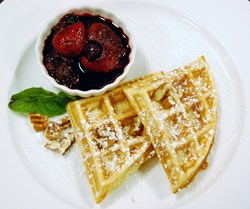 The all-natural ingredients and expertly-crafted recipes will make this the most nutritious and delicious way you've ever started your day. - Jessica Brantley (H3 General Manager)
Hilton Head Island, SC (PRWEB) August 15, 2013
Hilton Head Health (H3) is reinventing traditional breakfast favorites for their new menu. The nation's leading weight loss spa has been at the forefront of culinary creativity throughout the past three decades. Now the H3 culinary team of two chefs and a registered dietitian has upped the ante. Their new breakfast menu features 20 mouthwatering options like Banana Bread French Toast, Tomato Ham Frittata, Cheddar Jalapeno Biscuits and so much more. Even more impressive, the made-to-order options are all nutritionally balanced and fewer than 300 calories.
"The all-natural ingredients and expertly-crafted recipes will make this the most nutritious and delicious way you've ever started your day," say Jessica Brantley, H3's General Manager. Each day H3 will offer three a la carte specials in addition to their continental breakfast options. "H3 is the first resort that employs a full-time registered dietitian to help monitor the nutritional value of each meal," commented Brantley.
"Guests will have the opportunity to try all 20 breakfast menu items if they stay at the resort for two or more weeks," says Chef Jennifer Welper, a Certified Executive Chef through the American Culinary Federation and a Culinary Nutrition graduate from Johnson and Wales University.
For more information about H3's ground-breaking healthy breakfast menu or to sign-up for the Hilton Head Health weight loss program call 800.292.2440.
About Hilton Head Health:
For over 35 years, Hilton Head Health has been recognized as the premier weight loss and health retreat in the United States. Most recently, Hilton Head Health was featured on A&E's weight loss docudrama HEAVY, which aired in spring 2011. Voted as "Best for Weight Loss" for the past five consecutive years by SpaFinder and "Top 5 US Health Spas" by Lisa Drayer on the Today Show, Hilton Head Health is an exclusive resort delivering individualized experiences in the areas of Fitness, Nutrition and SELF (Stress management, Empowerment, Longevity, Fulfillment).