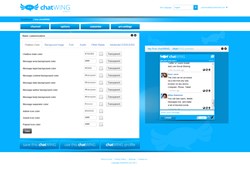 Seattle, WA (PRWEB) August 14, 2013
Seeing the visible potential of Yahoo, the Chatwing Company has integrated a reliable Yahoo login feature in its latest chat software. With the help of this feature, users can now gain valuable information without wasting any time at all. Aside from that, they can now reach different portals in the Internet—making communication easier by a high percentage. Chatwing's newest chat software application can also be installed to blogs and websites to ensure their perpetual traffic rate.
One of the key aspects of the chatroom is accessibility. Navigating in the Chatwing app is easy, and real-time communication can be accomplished in just seconds. This is the reason why many website marketers are using the application as inquiry and update tool. For Yahoo aficionados and professionals, this is a clear benefit. Not only will they have another marketing arm, but they can have another opportunity to make new friends and contacts.
The chatbox can also be customized according to the preferences of the user. This highlights the flexibility of the application in many instances. The user can select from tens and dozens of colors and background images. The Chatwing Team has observed that users are tweaking the chatroom based on the appearance of their websites. Background image upload is also possible, as long as the image link is not broken.
Chatwing and its researchers are still planning for a dynamic strategy that can create new upgrades to the chat app. This will help the platform become more efficient. With Yahoo integration, more users can also gain a new and compelling website chat experience.
About Chatwing.com
Chatwing.com specializes in the new field of live website chat software. Over years, the development team has introduced live chat widget for hundreds and thousands of blogs. The application bridges people from many parts of the world, creating global synergy through the Internet. The shout box can be installed in just seconds, and it can be used for varying purposes such as leisure and Internet marketing. It also allows a user to customize the size, color, and name of the widget.