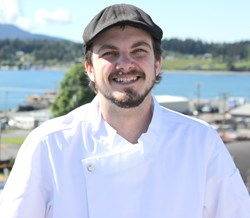 Anacortes, WA (PRWEB) August 16, 2013
Erik Morris has been hired as executive chef in charge of the hotel's 5th Street Bistro, catering services and the casual dining and beverage service on the rooftop of the hotel's new five-story addition.
At 5th Street Bistro, Morris will focus on fresh Northwest food products for the menu. "When people come to this region, they expect to find seafood, locally grown produce and house-made desserts," Morris said.
As for desserts, Morris likes working with chocolate the most and hopes to introduce his specialty, dark chocolate mint truffles to hotel guests and diners.
Morris graduated from the Skagit Valley College culinary program before earning a diploma at the French Pastry School in Chicago. He later moved to California where he was a pastry chef for Laguna Beach Montage Resort and the Blue Lagoon restaurant at Disneyland. While in California, he worked alongside a couple of well-known celebrity chefs.
"Erik was born and raised in Anacortes. We are confident his passion for food and understanding of our community will translate into memorable experiences for our guests and local patrons," said Russ Olivier, director of operations.
The 123-year-old Majestic hotel (the former McNaught Building) provides guests a sophisticated, restful retreat that returns them to a historic and simpler time. The classic lines of the building are complemented by updated furnishings and amenities. The 5th Street Bistro, meeting and event spaces and the Apothecary Spa make The Majestic a sought-after destination in the Skagit Valley and a stopping-off place for travelers to the San Juan Islands and Victoria, B.C. In summer 2013 the hotel opened a new five-story addition complete with a rooftop bar and reception area. For more information call 360-299-1400 or http://www.majesticinnandspa.com. The Majestic Inn & Spa is located at 419 Commercial Ave., in Anacortes, Wash.