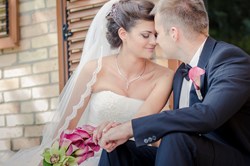 BluePromoCode offers the best deals on websites to help couples with their weddings
Los Angeles, CA (PRWEB) August 16, 2013
BluePromoCode, a leading marketplace for coupons and deals, announced today its latest and most comprehensive selection of promotions and discounts for wedding websites. Research shows that couples and their families are less concerned with the economy and are increasingly comfortable investing more in the once-in-a-lifetime wedding experience, utilizing wedding websites as an integral part of the occasion. BluePromoCode offers the best selection of promotions with quick and easy access to the most competitive prices on these sites.
The online bridal industry, social networking, and Internet use growth is eminent, as online wedding planning trends to continue. Following 2011's trend of growing budgets, for the second year in a row since the economic downturn, the average wedding spend has increased significantly. XO Group Inc., a global media and technology leader and creator of the top two wedding websites, TheKnot.com and WeddingChannel.com, released the results of its annual Real Weddings Survey, which surveyed more than 17,500 US brides married in 2012. Weddings, including same-sex marriage celebrations, are on the rise, and couples are seemingly less concerned with the economy, investing more than ever in the once-in-a-lifetime experience of planning their wedding and making it a fabulous experience for their guests.*
BluePromoCode offers the best deals on websites to help couples with their weddings:
eWedding.com– Websites from $4.95 /mo. For over 20 years eWedding has been providing a wide selection of stylish wedding accessories such as cake toppers, champagne flutes and serving sets, as well as gift items, such as bar accessories and bags. They are focused on providing quality products at good value all backed by their 100% satisfaction guarantee.
MyWedding – Free Website. My Wedding compiles the most comprehensive, easy-to-use local wedding guide resource across the country. They have everything needed to plan this momentous occasion in one place, and excited to help guide couples through this process. They offer RSVP management, photo sharing, and much more.
Wedding Window– Free Website. Wedding Window also is offering no-cost websites, but you can pay a little extra for premium features like high-end templates, color customizations and photo effects. One of their most popular features is the ability to accept online RSVPs that allow for both courses and meals for your bachelor/bachelorette party, shower, or wedding.
About BluePromoCode.com
BluePromoCode, based in Los Angeles, is a leading coupon search engine used by millions of consumers to help them save the most money on their purchases. The website partners with 12,000 retailers to bring over 100,000 coupons to its users and its editors hand-check coupon codes to ensure the highest quality ones rise to the top. BluePromoCode also offers personalized emails so members can receive the best deals for the brands they love directly in their inbox. Learn more at bluepromocode.com.