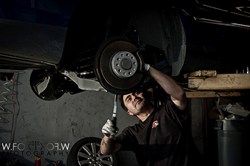 Scottsdale, AZ (PRWEB) August 14, 2013
Appointment-Plus, the worldwide leader in online and mobile scheduling software, is seeing greater interest in its enterprise software among automotive dealerships and service centers, a direct reflection of just-released findings that show the average age of vehicles in the U.S. has reached a record high.
According to survey results released Aug. 6 by auto research firm Polk, the average age of all light vehicles is 11.4 years. Additionally, the number of vehicles older than 12 years is on the rise.
These statistics bode well for the automotive aftermarket, as independent and franchised operations can expect more visits from both current and new customers.
However, businesses ill-prepared to handle this increase in service appointments will find the scheduling process very challenging.
The best way to automate and streamline this process is through enterprise appointment scheduling software.
"Aging vehicles always require regular maintenance, repair and service," says Bob La Loggia, CEO of Appointment-Plus. "And as these typically require customer appointments, the need for a proven and reliable enterprise scheduling solution becomes a necessity.
"Integrating an enterprise scheduler with an existing software system helps these businesses effectively manage large volumes of customer appointments and data across multiple locations."
By placing a "Book Now" button on their website, customers can conveniently book their service appointments 24/7 at any location operated by the dealership or service center franchise. Companywide staff schedules, services and appointment data can be instantly managed from one location, as opposed to individual programs or processes managed separately at each site.
Automated appointment reminders also help reduce the customer 'no-show' rate, ensuring that service bays remain full.
As the leader in online appointment scheduling software solutions since 2001, Appointment-Plus understands the unique needs the aftermarket auto industry has for automating and improving their booking processes. Its enterprise suite helps dealerships and service centers operate more efficiently and profitably through:

A robust API.
A highly scalable system that lets dealerships and service centers easily accommodate
increases in workload, users and growth across multiple locations.
The most configurable scheduling software system available.
24-hour U.S.-based customer support.
Dedicated business and support contacts.
Learn how Appointment-Plus Enterprise can improve your operational processes. Call Call 888-772-6746.
About: Appointment-Plus is a Scottsdale, Ariz.-based SaaS company named one of the Phoenix metro area's top software firms by the Phoenix Business Journal. They provide over 16 million people access to their online business management software, which specializes in appointment scheduling for customers, staff and resources.
For media and online journalists: Interested in interviewing our executives regarding future business-to-business online software technology or quotes for guest articles? Please email us at erichard(at)appointment-plus(dot)com.