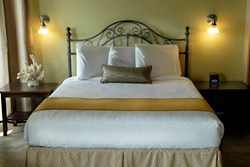 Newport, OR (PRWEB) August 16, 2013
It's no secret that travelers expect more value than they did a decade ago. The newly updated Inn at Nye Beach (http://www.innatnyebeach.com) has heard this message and offers guests a wide range of add-ons, including freshly ground coffee for the French coffee presses in each room, tea from Steven Smith Teamakers and Friday-Saturday night wine and beer socials featuring the Pacific Northwest's acclaimed wines and craft beers.
Guests entering the new lobby are greeted with herb-or-citrus-infused cool water and in the afternoon, freshly baked cookies are available. In-room microwaves, mini-refrigerators and free delivery of room service from the nearby Café Stephanie are among the most popular offerings, especially for families.
Travelers will luxuriate in embroidered robes and enjoy Olive Branch premium bath amenities. After partaking of the cookies and perhaps the wine-beer social, visitors may want to use the new, free exercise room located just north of the main building.
In all 20 rooms, bedding has been upgraded to plush, pillow-stop mattresses, 300-thread-count cotton sheets and pillow cases. Towels are made of a bamboo-blended material befitting the Inn's commitment to the environment. Considered one of the "greenest" hotels on the Oregon Coast, The Inn at Nye Beach generates electrical power from commercial-grade solar panels and heat from a highly efficient boiler system. All of the shampoo and conditioner bottles are recycled and bathrooms feature reusable soap dispensers.
The Inn's entry has been updated with a stylish awning and new signage has been added by proprietors VIP Hospitality LLC. Best of all, visitors will enjoy such perks as comfy and spacious rooms and direct views of the Pacific Ocean. The beach is just yards away, beckoning all to fly kites, check out colorful sea life at low tide or purchase a Beach Bonfire package that includes all the fixings for s'mores.
The hotel's new packages will make birthdays, anniversaries and other occasions even more special. Rob Lee, director of operations, said the most popular packages are Romance ($69), Beach Bonfire ($49) and Kid's Beach Package ($25). Visit the hotel's website (http://www.innatnyebeach.com) for more information on packages.