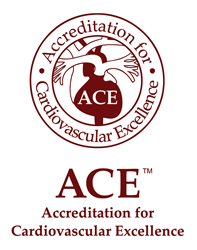 Keep your lab out of the crosshairs and demonstrate the quality of your programs to hospital administration by being proactive with ACE Accreditation and Peer review programs.- Ralph G. Brindis, MD, Past President, American College of Cardiology
Washington, DC (PRWEB) August 15, 2013
Emphasizing the importance of establishing routine objective, external reviews of cardiac cath lab (CCL) processes, Ralph G. Brindis, MD, MPH, MACC, FSCAI, Clinical Professor of Medicine, Department of Medicine & the Philip R. Lee Institute for Health Policy Studies, University of California, San Francisco, Senior Medical Officer, External Affairs, ACC National Cardiovascular Data Registry, Past President, American College of Cardiology, challenged participants during the 2013 Society for Cardiovascular Angiography and Interventions (SCAI) Scientific Sessions in Orlando, FL by asking: "How do you know that your CCL practices are okay?"
Citing the recent spate of legal and media attacks targeting cardiologists, Dr. Brindis asserted the necessity of being proactive and advocated the Accreditation for Cardiovascular Excellence (ACE) E3: More Than Peer Review program. E3 Expert, External Evaluation is "a very important aspect of what ACE offers; not only [does ACE provide] the opportunity to be accredited as a cath lab, but external peer review is another tool to validate continuous quality processes," said Dr. Brindis.
"Validating documentation and CCL practices are the foundation of value-based care," agrees Sheree Schroeder, MSN, RN, RDCS, FASE, ACE Director Peer Review Programs. "Objective, external peer review supports the ongoing management of quality patient care and takes the politics out of Peer Review for your organization. ACE E3: More Than Peer Review services are affordable, confidential, customizable and timely."
To view Dr. Brindis' statements: Why is Peer Review Important? http://youtu.be/9QAnxxeHjX4
To receive future videos in this series: More Than Peer Review or Accreditation, email info(at)cvexcel(dot)org.
About Accreditation for Cardiovascular Excellence
ACE, an independent organization sponsored by the Society for Cardiovascular Angiography and Interventions (SCAI) and the American College of Cardiology Foundation (ACCF), offers independent evaluation and monitoring of facilities that provide cardiovascular care. By reviewing facility and operator performance and comparing clinical decision-making to nationally accepted best practices, ACE peer review and accreditation services plays a critical role in continuous quality improvement programs. Learn more at http://www.cvexcel.org