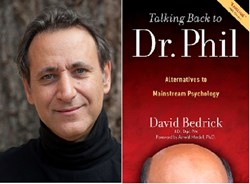 "A fun, psychologically educational, and brilliant yet easy-to-read book that dives into the essence and emerges with loving and realistic advice about everyday life."
—Arnold Mindell, Ph.D., author 'Quantum Mind' and 'The Shaman's Body'
San Francisco, CA (PRWEB) August 15, 2013
Like much of today's pop psychology quick fixes, Dr. Phil's counsel often leaves his guests – and others like them – feeling confused and inadequate.
In his new book, counselor, educator and former attorney David Bedrick introduces a fresh approach to addressing disturbing feelings and behaviors, and encourages a loved-based psychology rooted in the belief that there is profound meaning in one's personal struggles which can be healed when compassionately reframed.
Using examples from the 'judge and jury-style' television show 'Dr. Phil' the author illustrates mainstream psychology's tendency to shame people into thinking something is 'wrong' and Bedrick soundly debunks many standard protocols and "fixes" Dr. Phil promotes. Readers will easily identify with the guests as story after story presents how one's own difficulties can be the very seeds of their own unique healing, power and intelligence.
'Talking Back to Dr. Phil' tackles:
Body Image and Weight Loss – By trusting the body's silent messages to the psyche, the source of unhealthy eating patterns can be addressed and healed.
Addiction – Looking at addictive substances as allies can help patients confront the unmet needs that keep them in the cycle of addiction.
Domestic Abuse – Helping victims of violence who are too often shamed by a culture fixated on appearing happy and denying pain.
Bigotry – By examining how despised traits in others are actually reflections of what we hate in ourselves, meaningful change becomes possible.
~~~~~~~~~~~~~~~~~
'Talking Back to Dr. Phil:
Alternatives to Mainstream Psychology'
David Bedrick, J.D., Dipl. PW
Foreword by Arnold Mindell, Ph.D
Psychology/Self--‐Help
232 Pages, Softback
ISBN: 978‐0‐9852667‐0‐7
~~~~~~~~~~~~~~~~~
David Bedrick JD, Dipl. PW, spent eight years on the faculty of the University of Phoenix and taught courses for the US Navy, 3M, the American Society of Training and Development, the Process Work Institute, and psychological associations. An expert in counseling individuals and couples, Bedrick focused on domestic relations and family law, as well as women's empowerment, children's rights and more.