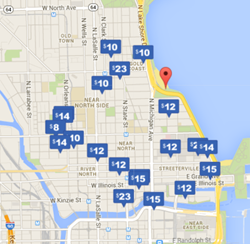 This is one of the summer's most popular public events, and we're happy to be a part of it.
Chicago, IL (PRWEB) August 15, 2013
ParkWhiz, the largest and fastest growing online parking company in the U.S., today announced that it is offering more than 1,000 spaces across 13 Chicago Air and Water Show parking locations. Drivers soaking in the theatrics can choose an all-day parking location for Saturday or Sunday.
Parking for the Air and Water Show can be booked via ParkWhiz.com and on Android and iOS devices. The company's web and mobile apps allow users to compare price, location, walking time and amenities. After the transaction, customers receive an electronic parking pass to print or display on their smartphone. The free service eliminates the hassle of driving in circles in pursuit of an open spot on the street.
ParkWhiz's latest undertaking supplements its extensive Chicago monthly parking and Chicago city parking inventory.
ParkWhiz's expansion into monthly parking last spring now allows customers access to over 1,500 convenient and affordable parking spots throughout Chicago, bringing transparency, simplicity and security to a notoriously stressful process. ParkWhiz is now a one-stop shop for any Chicago parking scenario.
"We've been saving our customers a great deal of money in event parking since we launched in 2006," said Aashish Dalal, CEO of ParkWhiz. "We are thrilled to be able to offer our customers even more ways to find daily and monthly parking in the most efficient way. Events like the Air and Water Show can create hectic traffic and road closures, so providing an exact destination with a guaranteed space for a customer is invaluable."
The 13 parking locations customers can choose from range from $8 to $41 for the entire day, including garages right across the street from Oak St Beach.
"By offering parking options for the Air and Water Show online and allowing drivers to book instantly at a pre-agreed price, ParkWhiz is cutting the hassle out of getting to the show," said Todd Tucker, Regional Director of Business Development at ABM Parking Services. "This is one of the summer's most popular public events, and we're happy to be a part of it."
On top of its event, daily and monthly offerings, ParkWhiz rounds out its Chicago presence by helping travelers with O'Hare Airport parking and Midway Airport parking.
More than one million people have used ParkWhiz.com, which can now take care of your parking needs wherever you go. Drivers can book special event parking and purchase discounted downtown parking at up to 60% off drive-up rates. The company works with over 2,000 parking lots nationwide and gives customers access to the world's largest online parking inventory with over 3 million parking spaces.
About ParkWhiz:
Headquartered in Chicago, ParkWhiz is the industry leader for booking online parking. The company's website and mobile platforms provide a fast and efficient way for drivers to find and book guaranteed parking spaces before reaching their destination. ParkWhiz is an official partner of StubHub and TicketsNow. The company also has partnerships with professional sports teams including the Indianapolis Colts, Baltimore Ravens, US Airways Center, NCAA teams, and other sport and entertainment venues.
For more information, visit ParkWhiz.com.