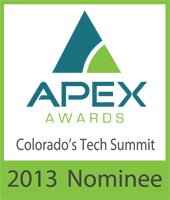 "I am honored to be named a nominee for these prestigious awards that recognize technology professionals and their leadership." - CEO, Brian Pontarelli
Denver, Colorado (PRWEB) August 20, 2013
Brian Pontarelli, CEO, Inversoft has been nominated for an APEX Award for technology excellence. The APEX Awards recognize Colorado's technology excellence highlighting remarkable leaders and innovators. This prestigious event has been hosted since 2001 by Colorado Technology Association (CTA) to honor the success of hundreds of deserving leaders in technology.The winners will be announced on Tuesday September 10, 2013 during the APEX Awards gala to be held at the Hyatt Regency Hotel in Downtown Denver.
Since the program's inception in 2000, CTA's APEX Awards have been awarded to well-deserved technology companies and executives who lead these amazing companies. Presented in nine categories for companies and individuals, the awards recognize success, innovation, vision, leadership, excellence in innovation and community contributions.
Inversoft is the leading provider of on-premise, high-availability, high-scale profanity filtering and online community moderation software and services. Inversoft's CleanSpeak helps some of the world's largest companies manage their user-generated content and discover new ways to interact with their customers.
"I am honored to be named a nominee for these prestigious awards that recognize technology professionals and their leadership, " said CEO, Brian Pontarelli. "I cannot thank those enough who help make the Mile High City a place for technology companies to grow and flourish."
"The APEX awards recognize and showcase the best of the technology innovation and leadership in Colorado. We look to our members to nominate ideas, projects, leaders and companies from every corner of the state and Colorado's technology industry," said Erik Mitisek, CEO, Colorado Technology Association.
Brian Pontarelli is an original founder of Inversoft and brings over 13 years of technical and management experience in high performance computing and large distributed applications to his current role as President and CEO. In addition to overseeing the overall direction and vision for the company, Brian uses his prior experience managing software development projects for companies including BEA, US Freightways, Orbitz, Texturemedia and Naymz, along with his well-earned understanding of the technical aspects of managing user-generated content, to help shape the development of the CleanSpeak suite of products.
About APEX
APEX is the Colorado technology industry's annual conference encompassing the 13th Annual APEX Awards, a single track conference, an interactive floor space and the Challenge featuring emerging tech genius from around the state. Past speakers at the event have included: David Cohen, CEO & founder of TechStars, Governor John Hickenlooper and Scott McNealy, former CEO of Sun Microsystems. Presented by the Colorado Technology Association (CTA), the event will be held on September 10-11, 2013 at the Hyatt Regency in downtown Denver.
For more information on the event, please visit apexcolorado.com.
About Colorado Technology Association
The Colorado Technology Association (CTA) represents Colorado's $49.6 billion technology industry, one of the fastest growing sectors in the state. Colorado ranked second for its high-tech business concentration and the nine-county metro region ranked tenth out of the 50 largest metro areas in software employment concentration. Since 1994, Colorado Technology Association has provided a voice for technology professionals in legislative issues and public policy. The Association provides more than 50 programs, events and connections to support the industry. CTA's membership includes 500 Colorado companies from startup to enterprise.
For more information visit ColoradoTechnology.org