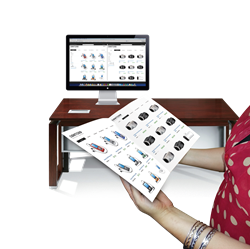 Nine out of top ten converting websites publish catalogs as part of their offline promotions.
(PRWEB) August 15, 2013
Smart retailors are banking on catalog printing to get higher ROI on their fall and holiday marketing campaigns. Unlike digital direct outreach methods, such as email, consumers treasure business catalogs; 58% of mail order recipients open catalogs immediately and 46% consider these print advertising materials extremely useful even when they're unsolicited (ACMA 2012). Catalogs deliver impressive results for advertisers selling apparel, fashion accessories, electronics, gifts, toys, and luxury goods. Although these marketing tools are seen as ways to attract new customers, they're actually ideal for bringing in repeat business from loyal customers.
Printed catalogs are a staple of many major retailers, such as Michael Kors, Urban Outfitters, Sharper Image, and Ikea. Online only ecommerce sites are quickly latching on to this trend as a way to boost internet sales. A 2010 SeeWhy/Nielson study of the top converting websites noted that 9 out of top 10 e-tailers publish catalogs as part of their offline promotions.
Business catalogs used to focus primarily on design; aesthetic elements still matter, but companies are also fine tuning keyword rich copy. Organic keyword queries provide a valuable source of data marketers leverage to improve catalog campaign results. Catalogs typically include product names and descriptions along with hi resolution images. By inserting the same targeted, relevant keywords seen on their websites into branded catalogs, marketers simplify the online shopping process. Consumers see the products they want, and turn to the web to place orders. When they visit sites directly, they instantly recognize the wording off the printed pages. If they rely on a search engine to find a specific product, they're more likely to find the original advertiser's link through exact match keywords. Either way, the business benefits from an influx of quality traffic that's already primed to purchase. Of course, businesses may supplement their paper mailers with digital catalogs customers can download in exchange for an email address.
Service providers have a more difficult task at hand without a list of products to showcase in catalogs, and many opt for business booklets or print brochures instead. Ambitious marketers in the B2B or service sectors should consider catalogs as a creative way to generate leads. Fill the pages with engaging photos about the company's offerings, testimonials, and a portfolio of recent work. Put QR codes on the service overviews, and send users to mobile optimized landing pages where they can request a consult. On the last page of the catalog, add a strong call to action with another QR code that gives users access to an exclusive offer.
About PrintFirm.com
Printfirm, Inc., trusted leaders in online commercial printing since 1996.