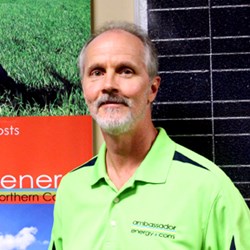 Residential solar - the good, the bad and the ugly.
Murrieta, CA (PRWEB) August 15, 2013
Hosted by Ambassador Energy and facilitated by solar professional, Mark Ambrose, the seminar will cover, but is not limited to the following topics:

Why your energy consumption will soon affect your home's value
A look at solar equipment currently available on the market
Unraveling the mystery of solar financing – leases, loans, cash and PACE/HERO
More than any other variable in the solar arena in the last several years, financing has changed the playing field for homeowners. Third-party ownership of systems, represented in transactions called leases and PPA's, have grown in popularity. Cash deals have statistically become less popular, as other purchase options, such as loans and PACE/HERO, have prevailed. Industry experts speculate that the majority of homeowners, when given a choice, prefer the little-money or no-money-out-of-pocket options.
"Today's solar market is a confusing one," Ambrose states. "It is not only riddled with an abundance of solar companies, many with specific messages and agendas, but it is also complicated by the many finance programs people may now use to acquire solar for their homes. The public is forced to digest a tremendous amount of confusing, often technical, information and decipher fact and propaganda. In this seminar, we will disseminate accurate information and answer questions that we hear frequently when we are talking with homeowners."
"In addition, in this workshop, we will speak to system design, components and the differences between products," continued Ambrose. "Ultimately, we will discuss how it all relates to reducing homeowners' utility bills, giving them, along with the ins and outs of financing, a solid comprehension of what is currently possible with solar. And, we will do this in Ambassador Energy's beautiful training facility, where people can see the products up close, have the opportunity to ask lots of questions, and not feel the pressure of having a solar salesperson in their home. Should be time well spent for interested homeowners!"
Bring your electric bill to win $50 for the 'Highest Electric Bill of the Evening'.
Seminar details:
Solar 101 Workshop
Cost: Free
Doors open at 5:30pm. Program 6:00pm to 7:00pm.
Ambassador Energy Training Facility
24630 Washington Avenue, Suite 102
Murrieta, CA 92562
Refreshments will be provided.
To reserve your seat, email rsvp(at)ambassadorenergy(dot)com or call 866-586-1840.
About Ambassador Energy
Ambassador Energy [AE] has a three-pronged business model, which includes Ambassador Energy College Solar Training, the Ambassador Energy Agency Program and the installation arm, Ambassador Energy EPC. On staff are NABCEP Certified PV Installers, NABCEP Certified PV Technical Sales professionals [Fulgham/Kelso] and multiple NABCEP EL graduates. AE holds California licenses General Contractor B, C10 Electrician and C46 Renewable Energy. Ambassador Energy is IREC/ISPQ accredited. AE Agencies are nationwide. Ambassador Energy EPC installs PV systems throughout California and the US.
Like us on Ambassador Energy on Facebook.