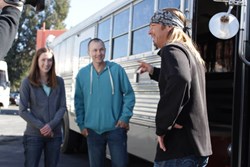 Booty Bean Bags are a football season favorite, so it will be great to see the Sac Back making a tailgating appearance on 'Rock My RV.'
(PRWEB) August 16, 2013
Booty Bean Bags, the North Carolina-based producer and manufacturer of beanbag furniture for children and adults, announces its feature on Travel Channel's Rock My RV with Bret Michaels on Sunday, August 18 at 10pm ET.
The Rock My RV series premiered May 2013 and stars Bret Michaels, musician and RV devotee, taking ordinary RVs and transforming them into outrageous, bad-ass, 21st-century mobile mansions. Bret, who has spent the majority of the last 25 years aboard his own self-designed tour bus, is now giving people the chance to experience the open road in their own tricked-out trailer. Each episode features Bret and his design team taking on a new challenge from start to finish.
In the August 18 "Ultimate Tailgater" episode, Booty Bean Bags' Sac Back (Flying Solo) in Red-Hot Red will be incorporated into the RV transformation. In the episode, Bret and his team help sports fanatics, Sean and Brittany, transform their 1973 International school bus into the ultimate tailgating machine.
"Booty Bean Bags are a football season favorite, so it will be great to see the Sac Back making a tailgating appearance on the show," says Nathan Welch, owner of Booty Bean Bags. "It's always interesting to see how different spaces are designed incorporating our furniture. As a manufacturer, I find it inspiring and I hope those watching the show are also inspired with new ways to make Booty Bean Bags a part of their lifestyle."
To view all of Booty Bean Bags furniture or to place an order, visit http://www.bootybeanbags.com.
About Booty Bean Bags
Booty Bean Bags are the cool alternative to boring seating. Unlike their vinyl and pellet ancestors of the past, these luxurious bean bag chairs are made with top quality materials including shredded memory foam filling and ultra-luxe microfiber coverings. Colorful, comfortable, and anything but conventional, Booty Bean Bags are perfect for kids, adults, and even pets. For more information, please visit http://www.bootybeanbags.com.