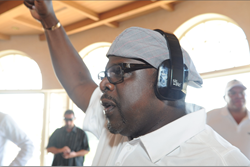 Camarillo, CA (PRWEB) August 14, 2013
GBK (gbkproductions.com) - the luxury lifestyle gift lounge and special events company - hosted the official thank you lounge for The Inaugural Cedric "The Entertainer" Celebrity Golf Classic on Monday, August 12 at the Spanish Hills Country Club in Camarillo. This charity golf classic benefited the Kyles Family Foundation, The Brotherhood Crusade of Los Angeles and The Boys and Girls Club of Camarillo in their support to providing invaluable services and programs aiding youth and their families.
For event and celebrity images, please click HERE.
The Inaugural Celebrity Golf Classic teed off at 10am, after breakfast and a putting contest. Cedric "The Entertainer" and his 200+ guests enjoyed the spectacular views of the Topa Topa Mountains, surrounding countryside and the Pacific Ocean as they took on the championship golf course.
As a thank you to the various celebrities attending the event, GBK created their renowned thank you lounge to conclude the golf tournament, benefitting the above charities. Cedric "The Entertainer" and his celebrity friends enjoyed an array of trend-setting products and fabulous gifts at the lounge.
Guests had the opportunity to enjoy gifts from delicious food sponsors such as:
Bread Basket Cake Co., gifting a gift certificate for an 8" custom design cake and box of chocolate truffles; and Jalisco's Mobile Taco Grill, The Premier Mobile Taco Grill Company in L.A., O.C. and the Inland Empire, who gifted a Mobile Taco Grill Party All-inclusive for 50 guests.
A true highlight of the lounge was Sir Ike Audio, who wraps your ears and mind in a luxury headset that offers pillow-like quality cushioning in a super lightweight design. Sir Ike Audio gifted their Luxury Bluetooth Audio Headsets.
Lifestyle products for men and women made their mark on this luxury event: BARBAR Hair Tools, gifting their 180 Barbar Professional Trimmers, which are the forefront of professional grade clippers, and their feather light in weight BT Professional Dryer; Fit 365, who gifted a full day customized fitness and nutrition experience with personal trainer & nutritionist Kyle Brown, and a chocolate or vanilla FIT 365 shake; Bed of Nails, who specializes in high end ancient healing products for your home spa to relieve modern day stress and pain while increasing energy; Milena's Candles, gifting their organic moisturizing soy candles, and their organic soy and Shea body butter; and Spanx, Inc., the industry leader in shapewear, now housing more than 200 products ranging from slimming apparel and swimsuits to bras, activewear and men's undershirts and underwear.
Other fantastic sponsors included:2K, gifting a cross selection of the largest, most critically acclaimed titles in the video game industry; and SAAS Hot Sauce, a new savory, authentic, all-purpose and spicy sauce that is getting rave reviews nationwide.
YES! Beat Liver Tumors, a non-profit organization dedicated to providing information, resources, support, and HOPE to those who are affected by cancer of the liver. YES! Beat Liver Tumors gifted a gift certificate to redeem the newest Kindle.
The beautiful Spanish style clubhouse hosted a cocktail reception and awards ceremony following the tournament and thank you lounge. A true highlight of the evening was the silent and live auction, raising funds for the causes.
GBK, formerly GBK Productions, is a luxury lifestyle gifting and special events company, specializing in entertainment marketing integration. Formed in 2000 by Gavin Keilly, the company's Founder and CEO, GBK consists of five divisions: GBK Celebrity Gifting, GBK Special Events, GBK Weddings, GBK Charitable Consulting and GBK Marketing/Public Relations. Widely known in the entertainment industry for bringing that little extra something into the Gifting Lounge environment, GBK offers its clients a full range of marketing services. For more information on Gavin B. Keilly (CEO), Carla Domen (VP) or GBK, please go to gbkproductions.com.
Twitter/Instagram/Facebook Hashtag #GBKCedricGolf
Contact:
Nicole Benninga
nicole[at]gbkpr[dot]com