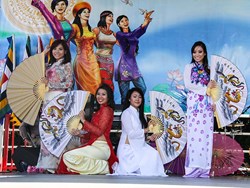 'Vietfest was a great place to bring my family! My little kid enjoyed the games, my older kid enjoyed the performances, and I enjoyed the pageant..' - J. Adams - McLean, VA
Alexandria, Virginia (PRWEB) August 21, 2013
At this year's "Beautiful Vietnam" themed event, VietFest will celebrate rich and vibrant culture of Vietnam with shows, music, art that will take the audience on a journey from the North, to Central to the South. VietFest will be a pleasure for all the senses. Wander the festival grounds to enjoy the hospitality and the delicious, authentic cuisine from the three distinct regions of Vietnam and abroad. There will be over 70 booths with food, art, crafts and exhibitions from businesses and nonprofits. Alongside the arts and culture exhibitions at the Little Vietnam Village, there will also be fun games and activities such as a moon bounce and carnival games at the Kid's Zone.
For those that have a competitive spirit, there will be many lively competitions taking place at different times and places during the festival. Similar to the popular TV show, Vietfest will be hosting its very own VietFest's Got Talent to showcase different acts and performances put on by a diverse group of contestants. Food lovers may enjoy the classic Pho competition or the more adventurous crawfish challenge.
There will be over 16 hours of entertainment over the two festival days. Along with traditional dances and musical performances, which will bring the spirit of Vietnam to the stage, the fashion shows will display both traditional and modern collections from talented designers. The biggest event is the Miss VietFest Pageant. Watch the young beautiful ladies vie for the crown in their elegant traditional clothing.
Other than entertainment, the Party Zone will be open for all of Saturday and Sunday. Visitors can participate in fun games, competitions, and events like karaoke, speed dating. Finally, at night the whole event area will be illuminated by hundreds of traditional lanterns creating the warm atmosphere only seen at the Vietnamese lantern festival.
The proceeds from this annual event will benefit the many leadership programs of NOVAL-DC, and the Northern Virginian Vietnamese community at large. NOVAL-DC welcomes everyone to contribute to the 2nd annual VietFest. Tickets are $7 for 1 day, free for children under age 5 and free for visitors wearing full Vietnamese dress (áo dài). Tickets are sold online or at the event. For general information, go to http://www.vietfest.com or call (202) 670.5370.
About NOVAL-DC
The National Organization for Vietnamese American Leadership of Greater Washington (NOVAL-DC) is a service-based nonprofit organization with a mission to develop sustainable leadership among Asian Americans and to preserve and promote the Vietnamese cultural heritage. Members are comprised of professionals and college students who are passionate and committed towards advancing the economic, social and political well-being of the Asian American people.
Contact
To learn more about VietFest and NOVAL-DC, please contact:
NOVAL-DC / VietFest
P.O. Box 34437
Washington, DC 20043
Email: info(at)vietfest(dot)com
Phone: (202) 670.5370
Website:vietfest.com
For media coverage and interviews please contact:
Hoang Doan
Marketing Director
hoang.doan(at)vietfest.com
(703) 953.8739 (cell)