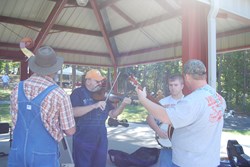 As a newcomer of the community I was amazed at the amount of music talent I found when I moved to Luttrell TN.
Luttrell, TN (PRWEB) August 29, 2013
The City of Luttrell hosts the 5th Annual Bluegrass festival which celebrates the community's rich music heritage including legends such as Chet Atkins and Kenny Chesney. This year's musical line-up includes local favorites such as Gospel Strings, Melba Greens, Wayne Burnette Review, and the Pleasant Valley Boys, regional performers Tim Lovelace, Outta the Blue featuring the Holloway Sisters, and David West.
The festival is a free, family styled event featuring vendors, crafts, live music, and a musician picking area. Bring a chair to enjoy this event in beautiful Luttrell City Park. An antique car show is also featured at this event.
This event is made possible through the generosity of Tennessee Arts Commission - Changing lives, and the East Tennessee Foundation.