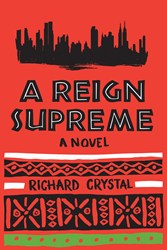 "Mr. Crystal has fashioned a tale of virtue and vice in the modern world. And it's all backed by the mellow sounds of modern jazz," commented Kareem Abdul-Jabbar, legendary basketball star, author and jazz aficionado
Los Angeles, CA (PRWEB) August 15, 2013
Inspired by a trip to South Africa and Botswana, Richard Crystal's debut novel weaves a compelling story of contemporary moral imperatives conceived during Obama's victorious election as America's first black President. Themes of corporate malfeasance and exploitation are uncovered when a copper deposit is discovered in the land of the Makenda tribe in eastern Kenya. But beyond the various political machinations, readers will find a heartwarming story infused with the strains of Coltrane, the history of jazz music in America and the enduring power of family.
"When I made the commitment to write A Reign Supreme, I thought it would take me no longer than six months. It took me three years. It was the most intense creative experience of my life. Looking back on that magical time, I can honestly say I have no idea how I did it but am forever grateful that I did", said Richard Crystal.
"A Reign Supreme is a wonderfully written novel. We are thrilled to bring Richard Crystal's debut novel to digital and print," commented Thomas Ellsworth, CEO of Premier Digital Publishing.
A Reign Supreme will be featured as a Nook First eBook beginning August 23, 2013. Mr. Crystal will also be signing copies of A Reign Supreme at Barnes & Noble , 2289 Broadway, New York on November 8, 2013 at 7pm. For detailed information, please visit: http://store-locator.barnesandnoble.com/store/1979?cat=AAA&subtype=detailList/.
Advance Praise for A Reign Supreme:
"Mr. Crystal has fashioned a tale of virtue and vice in the modern world. It deals with corporate greed, the politics of today's African economic scene and how they test the people who have to make their living in that environment. And it's all backed by the mellow sounds of modern jazz. I'm sure it will intrigue all", commented Kareem Abdul-Jabbar, legendary basketball star, author and jazz aficionado.
"From the streets of New York to a remote tribal village in Kenya, A Reign Supreme is a
moody, intriguing and emotional story. Our hero's journey from teenage jazz prodigy, to a
man haunted by his past, to accepting his surprising fate of heritage, is a terrific read. I'm
not just Richard Crystal's brother, I'm his fan," commented Billy Crystal, actor, comedian and writer.
About A Reign Supreme:
When a copper deposit is discovered on the land of the Makenda tribe in eastern Kenya, a young king, Ule Samanga, is told to relocate his people to a refugee camp in Nairobi or risk imprisonment. When all appears lost, the young king discovers the existence of Curtis Jackson, a mysterious half-brother presently living in New York. Believing this unexpected news is an omen from the spirit of his ancestors, he eagerly seeks his help to save their sacred tribal homeland. A struggling mortgage broker and former jazz prodigy, Curtis initially has no interest in developing a relationship with his newly found African family. But when he's presented with an intriguing business offer, he embarks on a journey to Africa that becomes a spiritual odyssey, changing him in ways he never imagined.
View the book trailer at http://youtu.be/U0rXGVyqBik/.
For additional information, please visit: http://www.premierdigitalpublishing.com/product/a-reign-supreme/.
About Richard Crystal:
Richard Crystal hails from a celebrated show business family that includes his multi-talented brother Billy Crystal, record producer Milt Gabler and his late father Jack Crystal who managed the legendary family record store, The Commodore Music Shop in Manhattan and also produced jazz concerts in the metropolitan area. Mr. Crystal has produced and written countless television shows and penned numerous screenplays for theatrical feature films in Hollywood. He has sung and produced four pop/jazz albums performing the classic standards he first heard as a young boy growing up in a house filled with music. A Reign Supreme is his first novel, inspired by a trip to South Africa and Botswana on his twenty-fifth wedding anniversary with his wife Fran.
Website: http://www.ripcrystal.com
About Premier Digital Publishing:
Premier Digital Publishing is a leading independent digital publisher and innovator in eBooks, enhanced eBooks and interactive content. Led by a team of digital media pioneers, the company ranks among the top suppliers of quality print and eBook entertainment to the industry's most prominent tablet reader distributors and top-tier retailers.