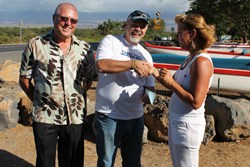 Pure-Ecommerce.com is delighted to once again support Pacific Cancer Foundation's incredible mission and programs. PCF is the only organization like this on Maui. Their services offer individuals the ability to stay on island while receiving treatment.
Maui, HI (PRWEB) August 14, 2013
Pure-Ecommerce.com's CEO Jennifer Varner is once again auctioning one of her company's complete ready-to-go ecommerce businesses to support the Pacific Cancer Foundation through the 2nd Annual Bid & Win An Ecommerce Auction Aloha Style. The Foundation focuses on providing access, knowledge and support to improve the quality of life for cancer patients, survivors and their families. Proceeds from the auction will go to the Foundation's 5th Annual Paddle for Life: Voyage to Lana'i 2013 to help support the Patient Navigation program for uninsured and underinsured women in Maui County. The event takes place on October 5 and 6, 2013.
Being auctioned from Pure-Ecommerce is http://www.PlayOutsideToyStore.com, plus 40 hours of full consulting and mentoring. Pure-Ecommerce will work with the winner taking them through every aspect of setting up, running, and then growing their retail ecommerce business. Bidding begins on August 15, 2013 and running through October 31, 2013. To place their bid, bidders can go to http://pure-ecommerce.com/bidandwin.html. (Minimum bid of $750). The highest bidder will be notified on November 1st.
Jennifer says, "We are delighted to once again support Pacific Cancer Foundation's incredible mission and programs. Pacific Cancer Foundation is the only organization like this on Maui. Their services offer individuals the ability to stay on island while receiving cancer treatment. They are constantly working towards helping and improving the lives of those affected with cancer!
Jennifer learned about the Pacific Cancer Foundation after moving to Maui last year and was so impressed with its free-of-charge Patient Navigation program for patients in Maui County. Jennifer, who was diagnosed with invasive breast cancer four years ago and underwent a mastectomy, chemotherapy and multiple surgeries all while being pregnant, credits a similar navigation program where she used to live for helping her. Jennifer took several respites in Maui while going through breast cancer. When she moved there last year with her family, she decided she wanted to give back to the community - especially to those whose lives have been affected by cancer. That's when she created the Bid to Win An Ecommerce Business Aloha Style auction.
Maui Resident Bill Buffington, a realtor with ERA Pacific Properties, was the winner of Pure-Ecommerce.com's 2012 Bid & Win An Ecommerce Business – Aloha Style auction and the complete ready-to-go ecommerce business, PureSportsGifts.com. Bill said he bid on the Pure-Ecommerce auction because "it just seemed like a win-win for all parties involved. My girlfriend Terry and I both found the Varner's story so compelling. Pacific Cancer Foundation touches so many lives and families and I know how hard these organizations work and give to help people who need them. Terry transports cancer patients who are unable to drive to their treatments and we have been touched by their stories as we were by the Varners."
After winning the auction and now owning his own e-commerce business for a year, Bills says, "It's been great working with the Varners and their team at Pure-Ecommerce.com. They are so professional and knowledgeable, and I've learned a tremendous amount about how to successfully run my ecommerce business. I've been excited about how much it has already changed my life. It's given me the flexibility to work my own hours, at my own pace, and with today's technology, do it even from here in Maui."
About Jennifer Varner and Pure-Ecommerce.com
Jennifer Varner created Pure-Ecommerce.com after gaining experience and success as owner of the largest online maternity clothing stores. Jennifer designed Pure-Ecommerce.com to provide entrepreneurs with complete, ready to go ecommerce businesses in some of the leading niche industries online. Each of the websites for sale comes with Pure-Ecommerce's exclusive 10 step training program and 40 hours of step by step consulting with their professional ecommerce team. Pure-Ecommerce works with clients located in Canada, Australia, as well as, other international countries.
Pure-Ecommerce has been featured in several national magazines and websites such as Entrepreneur, Forbes, Success and Women Entrepreneur as well as on Hawaii News Now and Khon2 morning television programs. Pure-Ecommerce has also been selected as one of the top 50 Women-Owned businesses by StartupNation. This year, Jennifer has recently been chosen as an Honorable Mention recipient for the 2013 Enterprising Women of the Year Awards and received Triangle Business Journal's 40 Under 40 Leadership Award for 2013.