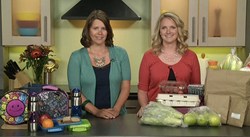 (PRWEB) August 15, 2013
Kids around the country are heading out for the school year, so now is the time parents can be thinking about how to provide nutritious meals in their kid's lunch boxes and on at the kitchen table – keeping them energized and focused throughout the day, and above all else, healthy!
This back-to-school season, U.S. Farmers & Ranchers Alliance wants to help families make informed decisions when it comes to those nutritious meals and how food gets from the farm to kids' plates. More and more, people have questions about food production, food safety and health. This information is always top of mind, but takes on even more importance when providing meals for children and families.
Several key food issues have been getting lots of attention lately, and it's important to know what these really mean when it comes to choosing food and preparing meals:
1. What is a GMO? Are GMOs a healthy food option?
2. What is the difference between organic and non-organic, and is it really important to me?
3. Are the antibiotics being used to treat farm animals harmful to me and my family?
4. Where can I find local options? What food will be in season in the fall?
5. Tips to get the whole family involved in meal planning and preparation.
For more information, images, and a helpful back-to-school tips video featuring Farm Moms Katie Pratt and Chris Chinn, go to: http://magicbulletmedia.com/MNR/USFRABacktoSchool/.
About Chris Chinn:
Chris and her husband Kevin are 5th generation farmers - farming with his parents and brother. They raise hogs, cattle, hay and row crops. It is a 1,500 sow farrow-to-finish and 60-head cow-calf farm. Chris uses Facebook and Twitter to connect with people outside of agriculture and has a blog about her farm as well to talk about what life is like for her and her family on the farm. Chris and Kevin are also busy raising their two children.
About Katie Pratt:
Katie and her husband Andy (a seventh generation farmer), currently farm in Illinois in partnership with Andy's family. They raise corn, soybeans and seed corn for a regional family-owned company. They welcome tour groups to their farm as part of a family tradition, which started back in the early 1970s. Katie and Andy are also busy raising their two children.
About U.S. Farmers & Ranchers Alliance (USFRA):
We have all become invested in knowing more about where our food comes from and how it was grown and raised – and how it impacts our personal health. USFRA helps farmers and ranchers answer consumers' questions, including the tough ones, about food production. For additional info, visit http://www.fooddialogues.com.