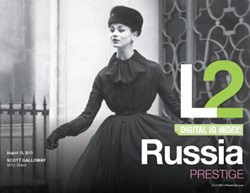 The majority of prestige brands still operate through subsidiaries in Russia, complicating the digital investment rationale, which is tied to growing local demand and demand abroad from Russian tourists.
New York, NY (PRWEB) August 15, 2013
Today, we released our first Digital IQ Index®: Russia Prestige, a comprehensive report assessing the digital performance of 84 global and local prestige brands from the Fashion, Beauty, Hotels, and Watches & Jewelry sectors in the Russian marketplace. In addition to ranking the Top 25 brands, the report also provides analysis of brands' Russia-specific social media strategies, insights into Russia's online consumer behavior, and a series of 'Flash of Genius' case studies. This inaugural report was authored by Scott Galloway, L2 Founder and NYU Stern Clinical Professor of Marketing, and a team of researchers at L2 Think Tank.
Report highlights:

Only 15 percent of the brands examined are shipping products to Russia and only 26 percent (including 10 hotel brands) are engaged in direct e-commerce.
Beauty and Hospitality brands dominate the rankings, performing far better than their counterparts in Fashion and Watches & Jewelry.
Only 19 brands are present on Russia's most popular social platform VK, and the investment is paying off—on average, VK brand pages are 2.5 times the size of Facebook brand pages and register more than twice the engagement.
Prestige brands are not optimizing for Cyrillic search. The average first page real estate is cut in half when switching from Latin to Cyrillic, and a quarter of brands lose coveted top placement.
Of brand sites that have localized Russian content, only 15 percent incorporate Russian language across all media, and only four of the brands we tracked feature onsite video with Russian language voiceovers.
To download an excerpt of the report: http://l2thinktank.com/research/russia-luxury-2013 .
To watch our animated video with additional findings: https://vimeo.com/72072791 .
About L2
L2 is a think tank for digital innovation that helps prestige brands navigate the digital marketing landscape through events, research, and advisory services. The L2 Digital IQ Index® is the global, seminal benchmark for digital performance of brands and the largest and most robust study of its kind. Rankings are published annually across numerous industries, including: luxury, beauty, retail, travel, spirits, auto, and consumer packaged goods. For more information, visit: http://www.l2thinktank.com. For all membership inquiries, please email membership(at)l2thinktank(dot)com.