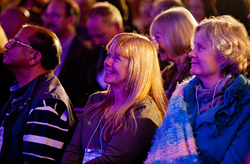 The fellowship with everyone was stunning… it felt like heaven on earth would be.
Scottsdale, Arizona (PRWEB) August 15, 2013
Alice Branton, CEO of Trivedi LLC, offered her sincere thanks to the worldwide community for participating in the Trivedi Retreat held at the Chaparral Suites in Scottsdale, Arizona on August 3rd and 4th, 2013. Alice spoke from her heart when she talked about the resounding success of the retreat, commenting that it was the enthusiasm, exchange of experiences, and contributions of the participants from over 24 countries, aligned with the incredible physical presence of the Spiritual Masters Mahendra Kumar Trivedi, his wife Dahryn Trivedi, and Gopal Nayak (participating remotely from India) that brought a unique quality to the retreat. Alice explained that the atmosphere was "electric," as people palpably felt the effects of the energy as it continuously increased in strength while in the presence of the Masters.
All three Masters are able to transmit an energy that has the potential to transform living and nonliving materials so they can reach their highest level/potential, for the betterment of humanity and the world. The effects of this energy are known as the Trivedi Effect®. The effects of this energy have been scientifically tested, measured, and validated in over 4,000 research experiments through the Trivedi Foundation™, leading to many publications in major international, peer-reviewed, scientific journals. All research and publications are available for public perusal on the Trivedi Science™ website at: http://www.trivediscience.com.
Everyone received three extended, group Energy Transmissions™ from Mahendra Trivedi and Dahryn Trivedi and an Energy Transmission™ during sleep by all three masters. In-person participants rushed to sign up for individual, in-person energy transmissions from Mahendra Trivedi and Dahryn Trivedi.
The experience was enhanced by the guest appearance of Dr. Steve Hruby, who demonstrated the effects of stress on the body through advanced technology that is utilized by NASA, i.e. thermal scanning. He used James Robinson, a man who has been associated with Mahendra Trivedi and been receiving regular transmissions over the past two years, demonstrating the impact of stress on the body and the quantitative and qualitative powers that the Trivedi Effect® plays in managing that stress. Dr. Hruby was available after the discourses so people could receive personal scans for analysis of the effects of stress in their lives, which they will be able to use for a future comparison after regular exposure to the Trivedi Effect®.
Mahendra Trivedi gave exceptionally transformative and practical discourses, explaining that in life is composed of two categories: growth and implementation. Times of growth is when life gives us trying circumstances that are designed to teach us and provide us with the skills and wisdom valuable for future implementation. During periods of implementation, life runs more smoothly and we are able to apply our wisdom and experiences for our success/prosperity. He clarified that many people get stuck in that process, fearing, challenging and trying to reject stress rather than embracing it and learning to be emotionally resistant to it. He explained that as humans, we need to work with nature, follow these cycles, and recognize when the right time is to implement new skills and when the right time for growth is. He indicated that when we work against nature and try to 'implement' when it is a time of growth then we will just encounter more stress and lengthen the process of learning. Mahendra Trivedi stated:
"When you are connected to The Creator/ Source of Universal Intelligence/God of your Understanding and adverse situations enter your life, then you are able to accept that they are there to nurture and prepare you for your future; that they are sent from the creator to make you stronger."
This energy connects people to the god of their understanding, allowing people to harness to harness the Vital Life Force that allows us to grow, flourish, and attract what we need to transform and maximize our potential on earth. It is important to deepen this connection so as to harness greater energy and gain momentum in people's transformation. (To learn more about the Trivedi Master Wellness™ programs available, please go to http://www.trivedimasterwellness.com.)
Participants are still sharing their testimonials about the astounding impact of the retreat:
"The word 'amazing', doesn't even come close to describing the experience." One more said, "A truly amazing retreat, so profound I'm still processing" and another stated, "the fellowship with everyone was stunning …it felt like heaven on earth would be."
More Trivedi Testimonials are available at: triveditestimonials.com.
Participants of the retreat have been delighted to hear that Mahendra Trivedi is going to host a remote, online workshop on September 7th, 2013 where he will discuss "how to live in happiness at all times." Participants will receive two more extended, powerful group Energy Transmissions™. To find out more, visit: http://www.trivedimasterwellness.com/remote-workshop/.