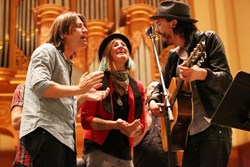 People came out in droves and our event sponsors, organizers and volunteers really rallied around us.
Appleton, WI (PRWEB) August 15, 2013
An estimated 10,000+ music lovers flocked to Downtown Appleton from August 8-11 to take in more than 100 live performances during the first-ever Mile of Music festival.
The event, a huge success according to lead organizers, featured four days of original music from a host of local to national recording artists who appeared at 42 different venues along the one-mile stretch of the City's College Avenue.
In the first of two headline shows, festival co-founder and curator Cory Chisel – a Nashville-based singer who grew up in Appleton – performed to a sold-out crowd with his band, The Wandering Sons. He was joined on stage by the Hillary Reynolds Band, Spacewoman, The Candles and a solo act from his band-mate Adriel Denae. A surprise to the audience, Grammy-award winning musician Norah Jones also made a special guest appearance as she played guitar and piano during multiple sets and sang back-up vocals with the bands.
Saturday's headline show at Lawrence Memorial Chapel featured music by Mel Flannery Trucking Co., Christopher Gold, Nicole Atkins and Justin Townes Earle before country crooner Rodney Crowell performed. Toward the end of the show, Chisel joined Crowell for a few songs.
Throughout the four-day event, feature stage artists like Communist Daughter and Field Report played to near-capacity audiences at bars, restaurants, coffee shops, cafés and outdoor patios lining Downtown Appleton. Chisel and other performers also made impromptu acoustical appearances at various locations.
As event co-founder Dave Willems of Appleton's Willems Marketing explained, "We were overwhelmed by the positive response our community showed in this first year of the festival. People came out in droves and our event sponsors, organizers and volunteers really rallied around us."
Willems gave local business partners and host locations a lot of credit for trying something new. "It's hard to predict the outcome of any new event in its trial run and I appreciate the fact that so many people came on board and were willing to test this concept with us." Willems added, "I think we can all agree that it exceeded our expectations."
Appleton proved to be ready for a festival of this size as original estimates show over 10,000 people came to the 100+ events with many traveling from across Wisconsin and beyond to attend.
With plenty of shows for adult fans to check out, Mile of Music also catered to younger audiences with a variety of hands-on Music Education Events. The music-filled weekend featured a series of free sessions that allowed kids to get in on the excitement. Events like Balinese Gamelan and World Percussion along with Rhythm Sticks, Parachutes and Wonder Whacking encouraged even the youngest ages to interact and experiment with drumming and dancing.
A non-profit festival, Mile of Music plans to funnel funds right back into the community as proceeds will be split into two recently-established funds. The Creative Downtown Fund has been organized to provide seed money to artistic-inspired projects in Downtown Appleton. The Mile of Music Fund – set up through the Appleton Education Foundation – will provide funding for more music opportunities within the Appleton public schools.
The Mile of Music is a new artisan festival that kicked off in August 2013 and featured over 100 singer-songwriters and bands performing live in Downtown Appleton, Wis. It is a collaborative effort headed up by Nashville-based national recording artist Cory Chisel and organized among several organizations and individuals throughout the Appleton area community. For more festival information, visit http://www.mileofmusic.com.