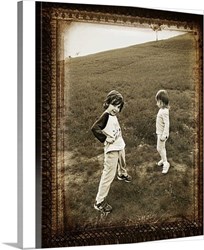 McKinney, TX (PRWEB) August 15, 2013
PaintYourLife today announced the addition of a new editing style. Those who are interested in a one-of-a-kind, original piece of art based on their own photographs will certainly love this incredible new editing style from PaintYourLife and their website http://www.PopArtPros.com. It joins a large lineup of other incredible art styles with a design that mixes the quirkiness of modern design with the romantic, sweet designs of yesteryear.
One of the more intriguing things about this editing style is the wide variety of options that customers have when designing their final product. Whether they want to add a bit of life to an existing photograph by adding a vintage touch or they want a completely unique collage-style piece with an original background created just for them, they will find that the possibilities with the Vintage editing style are endless. Whether they want to make their home snapshot look like a vintage daguerreotype, or to have a little fun and put their picture on the front page of an old-timey newspaper, the number of photo print to canvas options are incredible.
Potential customers can check out the wide range of pop art options with a quick visit to http://www.PaintYourLife.com, where everything from digitally retouched versions of decades-old photos to fun family snapshots have been converted with this great editing style. This option is wonderful for those who want something a little more fun than the more formal photo to oil painting option for their den or family room, but who want an option that is still classy and traditional.
The friendly artists at PaintYourLife are dedicated to customer service, and love working with customers to create pieces that they will love and cherish for years to come. Customers can rest assured that whatever option they are interested in, whether it is a reproduction of a damaged photo or a new background for a piece, the people at PaintYourLife and http://www.PrintYourCanvas.com will work with them to come up with a solution. This is just one of the many great services offered.
No matter what unique look a customer is interested in with their piece, they can find it at PaintYourLife. Every customer receives not only a consultation about what they are hoping to achieve with their photo editing services, but they will get the final say in the product that is printed on the canvas. The Vintage photo editing style offers customers of PaintYourLife the option of a classical piece that is still a lot of fun, and is sure to be a big hit as it launches along with many other great new photo editing styles.
About PaintYourLife
Since 2006 PaintYourLife has been the leading provider of online art products, and features one of the world's largest selections of canvas and art products. All products are designed by a team of professional graphic designers, and each product is created with the utmost quality and attention to detail. The site, which is a leader in the online art industry, has seen tremendous success because of customer and word-of-mouth referrals, and continuously works to develop innovative new ways to cater to an extensive range of needs.