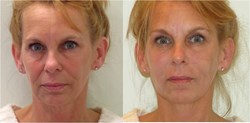 Boston, MA (PRWEB) August 16, 2013
Liquid facelift has become a household name thanks to many celebrities and TV housewives. For many years Masha's favorite product for liquid facelift was Sculptra-collection of crystals of poly-L-lactic acid suspended in sterile water. When injected in the right plane of the face crystals stimulate collagen production. Patients replace lost volume with own tissue gradually and get a facelift as it pulls descending tissues "up and away". Although this process takes time and several visits to your provider, superior results and its longevity (up to 2.5 years) are absolutely worth it.
When patients don't have time to "build" a perfect face and request faster results, Masha's product of choice was Radiesse. It is a polymerized methylcellulose with crystals of Calcium Hydroxyappatite in it. This product has great value as it lasts for a year and you get slightly more volume for your money (compared to softer fillers like Juvederm and Restylane). Unfortunately, there have been more and more documented cases of serious side effects, the worst possible is necrosis of skin leaving a patient disfigured and in need of wound care and reconstructive surgery (link). Another issue with Radiesse is that it causes a lot of scar tissue - it changes the "feel" of the skin making it more rigid and stiff. When treated to full correction, face often looks plastic and unnatural. The latter is a clinical observation and conclusion Banar PA-C has achieved after following her patients for years collecting feedback.
Radiesse is now replaced with a safer alternative at Visage Sculpture clinic-Perlane. This product is as sturdy and lasts as long. The difference is that it's dissolvable: should any complications arise they are easily and quickly treated, and the danger is averted. "I will still carry Radiesse, but I certainly will warn my patients about its possible side effects," says Masha.
Masha's algorithm when approaching face aging with injectables in most of the cases is the same: if patient needs to look good fast Perlane is the safest choice with longest duration. If patient can wait, Sculptra is the best gradual most natural approach to lifting the face non-surgically.
About Visage Sculpture
Visage Sculpture is premier Cosmetic Center dedicated to helping people look and feel more attractive, refreshed, and youthful in the most natural gentle way. Founded by Masha Banar, Board Certified Physician Associate, with more than a decade of experience in Plastic and Reconstructive Surgery, it has been featured on ABC News for its unique alternatives to surgical procedures.
Masha is a National Educator for Sculptra Aesthetic and teaches facial anatomy and injection techniques to Physicians and Nurses. Her extensive experience combined with artistic background and intuitive appreciation of proportions of the face brings ease to all procedures offered.
Complimentary consultation can be scheduled by calling at (617) 501-7055 or via e-mail. Office is located at 31 Channing Street, Newton Corner, MA 02458.