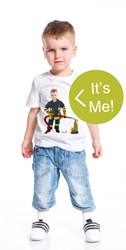 "With our products, we aim to encourage children to develop a true love for learning as well as cultivate their creativity and personalities." - flattenme.com CEO, Margo Redfern
(PRWEB) August 15, 2013
After a summer of water fights, sleepovers, family trips, hazy nights playing with friends and most importantly - pure fun - coaxing the kids into going back to school can present itself as something of a challenge.
In order to give children that little extra incentive to climb back onto the school bus, Flattenme.com has a bounty of new perfect personalized presents that are sure to boost morale and confidence when going up to the next grade and into the first semester of the school year.
The 'ABC and 123' personalized book is designed to encourage and inspire children's interest in learning to read, allowing them to see themselves learning throughout, with their face featured on every page. Designed with dazzling colours to attract their inquisitive eyes, the book is littered with fun rhyming and alliteration to make the process enjoyable rather than a chore!
It is super important to keep the brain hydrated to make sure it is performing to its optimum standard and learning is definitely thirsty work! After a long session of taxing their brain, children can then quench their thirsts with water from their personalized Flattenme water bottle. Coming in six different designs that embody the child's face and with the capacity to hold 20 oz of water, they are a cool and original twist on a lunchbox essential that are sure to promote the importance of drinking water to children.
CEO Margo Redfern said: "Sometimes it's hard to get children excited to go back to school, so offering educational and interesting things to them as encouragement can help spur them on and develop a love for their education.
"With our products, we aim to encourage children to develop a true love for learning as well as cultivate their creativity and personalities."
For all the budding Picasso's and the inner artists in children, flattenme's new line of personalized t-shirts customized with the child's face on it as the star creates a walking work of art. Whether they choose to be a rockstar, ballerina or any other of the eight designs, children will be the talk of the schoolyard while exploring their imaginations and showing off their personalities to their fellow classmates.
All of the Flattenme personalized products promote and help with children's playtimes, acting as aids that allow children to create their own stories, rather than being a part of somebody else's.
One thing that is for certain is that while at first it may be a struggle to get the kids back into their learning regime, once flattenme helps inject the fun back into going to school, parents may struggle getting them back home at the end of the day!
#################
Flattenme.com is the online destination for personalized books and gifts, ideal for birthdays, back to school, the holidays or just to say 'I love you'. Magically transform your child into a superstar in their very own custom book or gift.