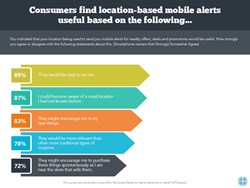 Here we see that the value of receiving offers nearby places where they can be transacted trumps any concerns about privacy.
SAN FRANCISCO, CA (PRWEB) August 15, 2013
A new Placecast poll conducted online within the U.S. by Harris Interactive shows that mobile phone owners are more interested now than in previous years in receiving offers from brands on their mobile phones, provided they have given explicit permission to the company. Conducted in May among over 2,000 U.S. adults, the poll revealed a 19 point increase in interest in receiving local mobile alerts from 2009 to 2013. This research comes from the latest survey (Wave IV) in Placecast's 'Alert Shopper' series, one of the longest running research series looking at consumer behavior and mobile marketing.
Interest in mobile alerts has increased significantly between 2009 (the year of the first survey) and May of this year. Participants in every wave of the survey were asked this question:
"Assuming you gave permission, how interested would you be in receiving mobile alerts* about new products, sales and/or promotions from your favorite merchants, restaurants, or stores on your cell phone/smartphone?" [1]
Nearly half - 45 percent - of 2013 mobile phone owners reported that they were at least somewhat interested in receiving mobile alerts from brands, compared to 26 percent of those surveyed in 2009. (CHART 1) "This 19 point increase suggests that mobilized consumers are increasingly aware of how easy it is to use mobile phones to save money and time, and have come to value offers that incorporate their location," said Kathryn Koegel, Chief of Insights at Primary Impact Research, who analyzed the data from all Harris Interactive Reports.
According to the study, the majority of U.S. smartphone owners - 4 out of 5 (86 percent) - say that it is at least somewhat important to them to be able to access local information and/or activities using an app. (CHART 2) The importance of local offers was also highlighted when participants were asked about the effect that a mobile alert for a nearby offer would have on them. Nearly 4 out of 5 (78 percent) of those who find location based alerts at least somewhat useful said a local mobile offer would be more relevant than other more traditional coupons. The survey also revealed:
· 89% said these offers would be easy to act on
· 87% also said they could become aware of a retail location they had not known before
· 83% said they might encourage them to try new things
· 73% said they might encourage them to make spontaneous purchases since they're near the store
Given this increased consumer interest in mobile ads, particularly location-based ads, brands have an unparalleled opportunity to use mobile to reach consumers while in the mindset to make a purchase. eMarketer has reported that retail spend in the digital ad space will increase by 42 percent (from $9.35 B to $13.31B)[2] over the next year. Mobile marketing is key to this growth, and companies across all verticals (restaurants, retail, travel, finance, etc.) are stepping up their mobile presence.
"When it comes to local offers on their phones, consumers are not only growing accepting, but expecting of them. Savvy brands will carefully consider how much of their digital spend is going to mobile, particularly local-mobile," Placecast CEO Alistair Goodman said. "On the publisher side, companies like Facebook and Google are being handed a huge opportunity to leverage their massive audience and deliver ads in a responsible, relevant way. The key is for the ads to be perceived as a valuable service by their users, not unwanted or intrusive."
Text messaging, searching for nearby retail locations and accessing local information all ranked higher in terms of mobile functionality than accessing social networks. With almost a third of Facebook's advertising revenue now coming from mobile marketing,[3] there is a significant opportunity to capitalize on interest in spend from retailers and brands that can drive traffic into real-world stores.
Koegel feels that this study clearly shows how receptive consumers are to local offers: "There has been great concern in the marketing world that the use of location for ad or promotional targeting or triggering would not be accepted by consumers. Here we see that the value of receiving offers nearby places where they can be transacted trumps any concerns about privacy."
To learn more about Placecast research, visit http://www.placecast.net .
Survey Methodology
This survey was conducted online within the United States by Harris Interactive on behalf of Placecast. Data was collected between May 8-10, 2013 among 2,072 adults ages 18 and older, of whom 1,797 were identified as owning a cell phone & between July 10-22, 2009 among 2,029 adults ages 18 and older, of whom 1,687 were identified as owning a cell phone. Results were weighted as needed to reflect the composition of the U.S. adult population ages 18+ using targets for region, age within gender, education, household income and race/ethnicity. Respondents for this survey were selected from among the Harris Poll Online (HPOL) database, which includes several million people who have agreed to participate in Harris Interactive surveys. This online survey is not based on a probability sample and therefore no estimate of theoretical sampling error can be calculated. For complete survey methodology, including weighting variables, please contact Rachael Himsel: Rachael AT vscpr.com
About Harris Interactive
Harris Interactive is one of the world's leading market research firms, leveraging research, technology, and business acumen to transform relevant insight into actionable foresight. Known widely for the Harris Poll® and for pioneering innovative research methodologies, Harris offers proprietary solutions in the areas of market and customer insight, corporate brand and reputation strategy, and marketing, advertising, public relations and communications research. Harris possesses expertise in a wide range of industries including health care, technology, public affairs, energy, telecommunications, financial services, insurance, media, retail, restaurant, and consumer package goods. Additionally, Harris has a portfolio of multi-client offerings that complement our custom solutions while maximizing our client's research investment. Serving clients in more than 196 countries and territories through our North American and European offices, Harris specializes in delivering research solutions that help us – and our clients – stay ahead of what's next. For more information, please visit http://www.harrisinteractive.com .
About Placecast
Placecast is the world's leading provider of location-based marketing and loyalty programs for mobile operators, payments companies and brands. The company's ShopAlerts geofence marketing platform is specifically designed to use digital marketing on mobile devices to drive consumers into physical stores.
ShopAlerts has transformed the mobile marketing industry, taking home the top prize for innovation awarded by the National Retail Federation. Brands such as The North Face, Kiehl's, Starbucks, L'Oreal, Subway, Pizza Hut, Kmart, HP, Chico's White House Black Market, JetBlue and SC Johnson have all run ShopAlerts offers through Placecast and its partners. The Placecast platform is licensed by brands, mobile operators like Telefonica's O2 in Europe and credit card issuers, with over 10 million opted in consumers receiving location-based offers every week.
Placecast is backed by ONSET Ventures Quatrex Capital, and Voyager Capital.
Media Contact for Placecast:
Rachael Himsel Nunez
rachael(at)vscpr(dot)com
415.677.9125 x 257
[1] Past surveys asked participants about interest in "text alerts"; in 2013 the term "mobile alerts" was used to reflect industry terminology.
[2] [3 http://techcrunch.com/2013/05/01/facebook-mobile-ad-revenue/