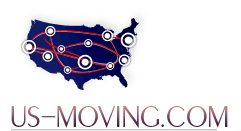 US-Moving.com has improved their website and made it easier to search their exclusive database of moving companies all across the nation
(PRWEB) August 19, 2013
US-Moving.com has improved their website and made it easier to search their exclusive database of moving companies all across the nation. Many customers are discouraged when they cannot find the right moving company fast. However, with the years of experience that this company has in the market, it has taken care of such glitches on its website, making everything so easy. Behind the improvements is an easy to navigate site that gives customers everything they want with an easy click of a button.
Consumers have different needs but one thing that they can all agree on is the saving of time. US-Moving.com understands this factor which is why the website was redesigned to create an interface that gives access to everything on the web and all users have to do is click on the link. There are many people searching for moving information online and when they come across a website that is difficult to navigate, then they leave immediately. To prevent this from happening, the company has revamped their site to a new look that provides efficiency and saves time.
When people are planning on moving, they spend quite a lot of time preparing and when they need information about the moving process and the best moving company, they want to get it fast. With the advent of the internet, customers rely on this tool to get as much as possible and moving is not any different. For this reason there are many websites providing links to good moving companies, offering free online quotes and tips that are useful to people who are preparing to make the big move. From pages with storage information, international moving companies to guides on how to move better and ensure the safety of customer's property, the new look of the website has it all. A company spokesperson has said that "the new unveiling of our new look website is more than just a normal look. It is a way to encourage people to find the information they need and the services they will use during their move. We understand the importance of every second and the changes on the site are geared towards enhancing consumer experience." This statement just confirms the need to have a better website for the sake of saving the user's time and all the hassle they go through to find different things online.
With the unveiling of the new website interface and the inclusion of new pages that provide useful tips to people planning on a move, whether international, long distance or local, http://www.US-Moving.com has moved a notch higher in the moving industry. For more details on this and more visit US-Moving.com.