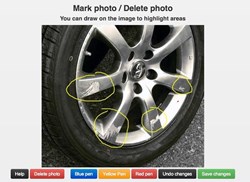 Tradeouts Appraisal is an app not only very simple to use but more accurate and accountable than traditional systems. Better still, we're offering it free to Tradeouts customers
Daventry, UK (PRWEB UK) 21 August 2013
Tradeouts Appraisal is a web-based mobile app enabling dealers to perform detailed digital vehicle appraisals replacing old fashioned, error-prone paper-based systems. The tool works on all modern tablets and smartphones including iPad, iPhone, Android and Windows devices, and is available to download and use for free from today.
Boasting an intuitive touch-screen interface the app takes the user step-by-step through each vehicle appraisal, from entering customer details, vehicle information and taking photos to building an accurate condition report and automatically retrieving vehicle valuation data.
Marking crosses on a piece of paper to record damage is now a thing of the past, the app allows users takes multiple photos and areas of note can be highlighted by simply drawing on the image using a finger.
Working with or without internet connectivity the app processes up to 30 appraisals before upload to the Tradeouts server is required. Once uploaded, appraisals can be retrieved from any other device with the Appraisal App or a desktop PC.
David Brown, Managing Director of Tradeouts said, "Providing accurate valuations is essential for today's car dealer to strike the best deal with their customer. Tradeouts Appraisals meets that need in an app that is not only very simple to use but more accurate and accountable than traditional systems. Better still, we're offering it free to Tradeouts customers"
For users appraising makes and models they are inexperienced in, the system tells the user what to look for drawing on a knowledge base contributed to by other users.
Tradeouts Appraisal has been integrated with Tradeouts.com, the trade-to-trade network used by 3000 traders around the UK. A Tradeouts Appraisal can be converted to a trade advert at the click of a button. Bids for part exchange vehicles can start arriving before the customer has left the showroom.
Tradeouts Appraisal isn't limited to processing part-exchanges, it can be used for any situation that requires the recording vehicle condition at handover, from valeters, drivers, service departments, transporters, traders, to salesmen, sales controllers and buyers.
David continues, "This is more than an app for sales staff. Dealers have told us their third largest unbudgeted cost is claims against the business from car park damage which is paid out of goodwill. This app will cut those costs significantly.. now a vehicle's condition can be recorded accurately the moment it comes in for servicing."