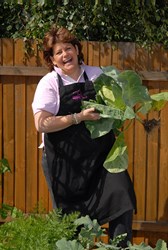 Best of all, it's completely free – so if you love fantastic food and drink, come down to Tippers and learn some culinary magic from one of the best in the business.
(PRWEB UK) 16 August 2013
Celebrity chef Rachel Green will share her culinary wisdom at the Lichfield Food Festival later this month, thanks to local business CookersAndOvens – part of Tippers' Lichfield branch.
Green will perform cookery demonstrations for local foodies at Tippers Lichfield on Saturday, August 31, at 10:30 a.m., 1:30 p.m. and 2:30 p.m. Entry is free.
Green, from Lincolnshire, is known for her passionate support of local produce, and her hearty British cooking.
She has written two popular recipe books, Sausages: Making the most of the great British sausage, and Rachel Green's Chatsworth Cookery Book, and has appeared on BBC3's Kill It! Cook It! Eat It!, and UKTV Style's Farm of Fussy Eaters. She also has a regular slot on BBC Radio Lincolnshire.
Green will treat festival goers to cooking workshops in a custom-built demo kitchen supplied by CookersAndOvens.
Bill Tipper, spokesman for CookersAndOvens, said: "The Lichfield Food Festival is quickly becoming a Lichfield institution, and we're really pleased to be part of it again. The weekend promises to be full of tasty activities.
"There are a fair few foodies here at CookersAndOvens, so having Rachel Green on board only makes things more exciting.
"We're big admirers of her television and radio work, as well as her cookery books, so we're looking forward to seeing her skills in action.
"Best of all, it's completely free – so if you love fantastic food and drink, come down to Tippers and learn some culinary magic from one of the best in the business."
The Lichfield Food Festival 2013 takes place on Saturday, August 31 and Sunday, September 1. It will feature competitions, a farmers' market, food and drink exhibitions, and a 'food theatre' at Lichfield Garrick theatre.
This is the second year CookersAndOvens has been involved in the festival. Last year, the firm worked with Michelin-starred TV chef Nick Nairn, and was the main sponsor of the Lichfield Garrick Theatre's demonstration kitchen.
CookersAndOvens is an online retailer which sells Britannia, Neff, Falcon and Rangemaster cookers, built-in ovens and other kitchen appliances.
It is part of the Lichfield branch of Tippers DIY store, which sells a range of kitchen and bathroom products, as well as decorating materials, timber and joinery, insulation products, plumbing supplies and more.
It is located on Europa Way, Lichfield, Staffordshire, WS14 9TZ.
To obtain free tickets for Rachel Green's cookery classes, contact the Lichfield Garrick Theatre box office on 01543 412121.
For more information on CookersAndOvens, visit: http://www.cookersandovens.co.uk/.
For more information, please contact: Allan Akers, e-Commerce manager at CookersAndOvens, on aakers(at)tippersbm(dot)co.uk or 01543 222100.
About CookersAndOvens
CookersAndOvens specialises in selling quality range cookers from top brands online. Its product catalogue includes cookers from Rangemaster, Falcon, Britannia and NEFF, as well as cooker hoods, splashbacks, dishwashers, sinks and taps. CookersAndOvens is rated 'excellent' on consumer review site Trustpilot. It is part of Tippers.
About Tippers
Tippers has supplied home improvement and building supplies for almost 100 years. The firm is based in Lichfield, Staffordshire, and also has branches in Tamworth, Wolverhampton, Kidderminster, Birmingham, Nuneaton and Uttoxeter. Each branch incorporates a public self-selection store and a trade counter, and most branches have a dedicated kitchen and bathroom showroom.