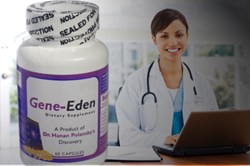 polyDNA suggests targeting the latent virus with Gene-Eden-VIR, a natural antiviral supplement, before HSV-2 "wakes up" and causes disease.
Rochester, NY (PRWEB) August 16, 2013
Genital herpes, specifically Herpes Simplex Virus 2 (HSV-2), may cause more damage to the brain than previously thought, according to researchers from the University Of Kentucky College Of Medicine. (JAMA, May 2008) (2).
In a paper published in May 2008 in JAMA Neurology, the authors wrote that "Herpes simplex virus type 2 (HSV-2) infection is responsible for significant neurological morbidity, perhaps more than any other virus. Seroprevalence studies suggest that as many as 45 million people in the United States have been infected with HSV-2, and the estimated incidence of new infection is 1 million annually. (2)"
Large numbers of these infected individuals will go on to develop neurological symptoms. In fact, although HSV-1 can cause the development of encephalitis, HSV-2 generally causes meningitis. HSV-2 may affect virtually any part of the central nervous system, including the retina, brain, brainstem, cranial nerves, spinal cord, and nerve roots. (2)
This is possible since HSV-2 establishes a latent infection. It sets up residence in nerve centers. Specifically, it establishes a latent infection "in human peripheral sensory ganglia" according to a study published in the journal Immunological Reviews in August, 1996 (2). When the latent virus reactivates, neurological conditions may develop.
polyDNA suggests targeting the latent virus with Gene-Eden-VIR, a natural antiviral supplement, before HSV-2 "wakes up" and causes disease.
Gene-Eden-VIR is designed to fight against the latent herpes virus. A recent post marketing clinical study showed that Gene-Eden-VIR is safe and effective. Up to 70% of those studied reported a decrease in viral symptoms. (3)
Each ingredient of Gene-Eden-VIR was chosen through a scientific approach. Scientists scanned thousands of scientific and medical papers published in various medical and scientific journals around the world to identify the safest, most effective natural ingredients that target the latent form of HSV. (4)
To learn more about Gene-Eden-VIR, visit http://www.gene-eden-kill-virus.com. All orders of Gene-Eden-VIR are completely confidential, and no information is shared or sold to any third party. Privacy is assured.
References:
(1) http://www.ncbi.nlm.nih.gov/pubmed/23931801
(2) http://archneur.jamanetwork.com/article.aspx?articleid=795486#ArticleInformation
(3) http://www.cbcd.net/Gene-Eden-VIR-Clinical-Study.php
(4) http://www.buygeneeden.com/studies.php
polyDNA is a biotechnology company that develops dietary supplements using the unique scientific method developed by Dr. Hanan Polansky, which is based on Computer Intuition.
In addition to his unique scientific method, Dr. Polansky published the highly acclaimed scientific discovery, called Microcompetition with Foreign DNA. The discovery explains how foreign DNA fragments, and specifically, DNA of latent viruses, cause most major diseases.
polyDNA developed Gene-Eden-VIR , an antiviral natural remedy that helps the immune system kill latent viruses.