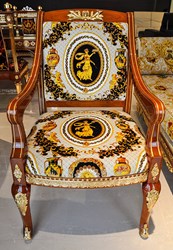 All these items also feature impressive craftsmanship and durable construction in a design that is both pleasing to look at and functional.
Allen, Texas (PRWEB) August 17, 2013
The Interior Gallery has just introduced a range of European classic chairs as part of the company's Luxury Furniture Collection. These finely crafted chairs would not look out of place in a palace but a spokesperson from the company was quick to add that while its latest range of luxurious chairs look like they are fit for royalty, the prices of these ornate items are much lower than many would expect.
These fine pieces of art are made of Birch wood and gilded with real 24K gold plated brass accents and adorned in intricate Italian velvet upholstery. The chairs can be used as a dining chairs, arm chairs for conversation areas or simply used as focal point pieces for aesthetic purposes.
These chairs go nicely with the other items in the company's European Classic Furniture range, which include classic sofas, cabinets, tables and fireplaces. All these items also feature impressive craftsmanship and durable construction in a design that is both pleasing to look at and functional.
The Interior Gallery is offering their latest addition to their line of luxury modern chairs at over 30% off normal retail prices, which would amount to savings of up to $400. After discount prices range from $899.99 to $1,199.99 with most items costing less than $1000.
With interest for such furniture growing steadily, the company intends to continue adding to its selection of fine luxury furniture in the months to come.
Currently, the selection of European classic chairs can be viewed conveniently at their online store - http://www.theinteriorgallery.com. Those who would prefer to get a first hand look at the fine detail embellishing these chairs, may visit the company's massive $3 million dollar showroom located in Allen, Texas. Every single item displayed on their website can also be found at the showroom.
The Interior Gallery assures customers that quality is never compromised even though prices for these items are kept well below retail figures. Corners are never cut in an attempt to offer these prices. The company simply imports their products directly from manufacturers thereby avoiding markups from middlemen. The savings are then passed on to their customers.
The Interior Gallery is committed to providing products of value at the highest quality to its customers. The company makes every effort to ensure its goods meet stringent quality levels before they are shipped to customers. All products are inspected individually, repackaged with industrial strength packaging materials before they leave the storage facility.
The Interior Gallery also has a contemporary and classical furniture collection such as living room sets as well as high quality home lighting such as crystal chandeliers. Some of the famous companies that have bought products from them include The National Geographic, Disney, General Electric, Cirque de Soleil, Microsoft, Ralph Lauren, Lacoste, and famed jeweler Tiffany & Co.
For more information, please visit http://www.TheInteriorGallery.com or contact their customer service at toll free 866-205-6867. The company's showroom is located in Allen, Texas which houses all their physical products for viewing and is open from Monday to Friday (9:00am – 6:00pm CST), Saturday (10:00am – 6:00pm CST) and is closed on Sundays.