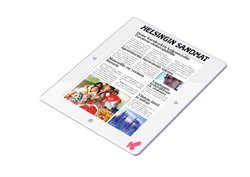 A personalized newspaper has long been the stuff of dreams, but now it can become reality.
Helsinki, Finland (PRWEB) August 16, 2013
TIVIT Next Media research program and five Finnish media companies are testing a new kind of ePaper reader solution that is charged by ambient light. The solution will be piloted for newspaper distribution to hundreds of users in November. The test users receive daily morning and evening versions of the Helsingin Sanomat newspaper.
The goal is to create an ePaper value chain, which provides media and content providers a completely new, environmentally-friendly method of delivery for media content. Target markets include both Finland and other global areas. Initially, the project will focus on journalistic content distribution, and ultimately, the distribution of educational material.
"We would like to find out whether the physical newspaper can be replaced by a reading device delivered with the subscription," said Santtu Parkkonen, Producer, Helsingin Sanomat development.
"The ePaper device also enables new types of subscription-based products. Ideally, readers could take contents of Sanoma's multiple media brands and compose their own favorite magazines. A personalized newspaper has long been the stuff of dreams, but now it can become reality", Parkkonen said.
"The ePaper ecosystem is based on a new, solar cell rechargeable reader developed by Leia Media. The ecological solution also charges the battery in artificial light, and the unit price will be low," said Leia Media CEO Antti Korhonen.
"Together with a cloud-based distribution solution, this creates a comprehensive service that provides globally scalable business opportunity," Korhonen said.
The ePaper ecosystem is formed by five Finnish companies: Leia Media, Sanoma News, Bluegiga, Anygraaf and DNA.
"Anygraaf's focus is on the automation of content for novel reading devices, and the examination of new revenue streams and digital access control," Anygraaf CEO Hannu Inberg said.
The ePaper ecosystem program is based on the technologies and know-how developed by the lead partners in TIVIT's Next Media research program. The project is financed by the partner companies' investments, and by Tekes, the Finnish Funding Agency for Technology and Innovation.