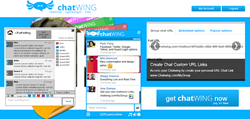 New York, NY (PRWEB) August 16, 2013
Chatwing Development Team is readying the launch of its new tutorial videos. Primarily, the videos will be posted in Youtube and other websites. The goal of the videos is to increase awareness regarding the importance of having chat software in any blog or website. Aside from that, the Chatwing videos will include installation guides.
One of the early videos conceptualized are the apparent website visibility rate ensured by Chatwing's chat box. According to Chatwing's videos, traffic is important to any website. The Chatwing app—once embedded—can provide a professional and simple way for visitors to talk about the subjects of the website.
"We are covering lots of topics," Says Ivan Diamond, one of the creators of the videos. "All of the videos are helpful, capping 3 minutes tops. Here at Chatwing, we prefer to become more informative and interesting at the same time. Now, Chatwing subscribers can learn more about our chat app. They will know how to add moderators, add background images, and even join from Chatwing's selection of chat networks."
Chatwing Development Team is bent on improving the premise of global connectivity in all aspects. The developers are also certain that more chat box features will be introduced in the coming months. Web users are invited to visit Chatwing's Facebook page and Twitter accounts for more updates.
About Chatwing.com
Chatwing.com specializes in the new field of website chat. Over years, the Chatwing team has introduced live chat widget for hundreds and thousands of blogs. The Chatwing application bridges people from many parts of the world, creating global synergy through the Internet. The shout box can be installed in just seconds, and it can be used for varying purposes such as leisure and Internet marketing. It also allows a user to customize the size, color, and name of the widget. Chatwing is 100% free for everyone.