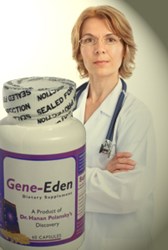 If even a small percentage of lung cancer tumors develop because of HPV, then taking Gene-Eden-VIR, which targets latent HPV is a smart decision. - Mike Evans, polyDNA
Rochester, NY (PRWEB) August 17, 2013
Everybody knows that smoking can cause lung cancer. However, several new studies have shown that HPV infection can lead to lung cancer. In a review published on August 3, 2013 in Critical Reviews in Oncology/Hematology, the authors said that "Risk factors for the development of lung cancer include (HPV and Mycobacterium tuberculosis), hormonal and dietary factors and diabetes mellitus. (2)"
Another article published on April 10, 2013 on ScienceDaily.com reported that "Studies from Asia have shown that lung tumors are frequently infected with HPV. Examining tissue samples from lung cancer patients, the researchers found that nearly 6% showed signs they may have been driven by a strain of human papillomavirus (HPV) known to cause cancer. (3)"
The researchers found that 4 out of 36 samples had signs of infection from two strains of HPV known to cause cancer, 16 and 18. Looking more closely at the two samples infected by HPV 16, … (the) team saw signs the virus had integrated into the tumor's DNA—which is even more suggestive that the infection caused the tumor. (3)
"If even a small percentage of lung cancer tumors develop because of HPV, then taking Gene-Eden-VIR, which targets latent HPV is a smart decision." – Mike Evans, polyDNA
polyDNA recommends that people concerned about HPV caused lung cancer begin using Gene-Eden-VIR. This oral antiviral was proven to be effective against the latent HPV in a recent post-marketing clinical study.
That study confirmed that people can effectively fight the latent oral HPV with Gene-Eden-VIR. Interested individuals and doctors can read the abstract of that study on the Center for the Biology of Chronic Disease's (CBCD) website (4).
The Gene-Eden-VIR post-marketing clinical study showed that individuals infected with the latent oral HPV reported a safe decrease in their symptoms (4). This is because Gene-Eden-VIR targets the HPV while it is still dormant (latent). In other words, Gene-Eden-VIR helps the immune system fight the virus before it becomes active and causes symptoms.
Each ingredient of Gene-Eden-VIR was chosen through a scientific approach. Scientists scanned thousands of scientific and medical papers published in various medical and scientific journals around the world to identify the safest, most effective natural ingredients that target the latent form of HPV. (5)
To learn more about Gene-Eden-VIR, visit http://www.gene-eden-kill-virus.com. All orders of Gene-Eden-VIR are completely confidential, and no information is shared or sold to any third party. Privacy is assured.
References:
(1) http://www.ncbi.nlm.nih.gov/pubmed/23942143
(2) http://www.ncbi.nlm.nih.gov/pubmed/23921082
(3) http://www.sciencedaily.com/releases/2013/04/130410082732.htm
(4) http://www.cbcd.net/Gene-Eden-VIR-Clinical-Study.php
(5) http://gene-eden-kill-virus.com/studies.php
polyDNA is a biotechnology company that develops dietary supplements using the unique scientific method developed by Dr. Hanan Polansky, which is based on Computer Intuition.
In addition to his unique scientific method, Dr. Polansky published the highly acclaimed scientific discovery, called Microcompetition with Foreign DNA. The discovery explains how foreign DNA fragments, and specifically, DNA of latent viruses, cause most major diseases.
polyDNA developed Gene-Eden-VIR , an antiviral natural remedy that helps the immune system kill latent viruses.