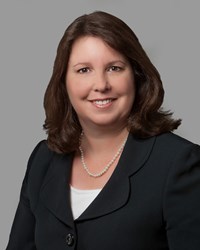 Roanoke, Virginia (PRWEB) August 15, 2013
Cherry Bekaert LLP ("the Firm"), one of the nation's largest public accounting and consulting firms, is proud to welcome Leah Keller as a Partner.
In her role with Cherry Bekaert, Keller will focus her practice on the federal and multi-state taxation issues of domestic and foreign-owned middle market, closely held and private equity/venture capital-owned companies in the western part of Virginia and east Tennessee. In addition, she will be actively involved with Cherry Bekaert's Manufacturing & Distribution and Technology & Life Sciences industry groups, applying her tax expertise in compliance and planning for C-corporation and pass-through entities, consolidated returns, ASC 740 tax provisions, tax accounting methods, mergers, acquisitions and reorganizations.
"The knowledge Leah brings to the Firm strengthens our reputation of providing practical growth and tax advice to our client base," remarks Randy Burton, Managing Partner of the Roanoke practice of Cherry Bekaert. "With over 20 years of public accounting and private industry experience, Leah and her expertise are a great fit for Cherry Bekaert, and add value to our Manufacturing & Distribution and Technology & Life Sciences industry groups."
Previously a partner of a mid-Atlantic CPA and advisory firm's tax services group, Keller's professional background includes working for an international firm and several years of private industry experience, serving as director of finance for a multi-state manufacturer and distributor, finance manager for a waste management authority and as a division controller for a Fortune 200 company.
Keller received her Bachelor of Arts in Accounting at Grove City College. As a licensed CPA in Pennsylvania, she is an active member of the American Institute of Certified Public Accountants (AICPA) and the Pennsylvania Institute of Certified Public Accountants (PICPA).
About Cherry Bekaert LLP
As a nationally recognized, growth-oriented firm, Cherry Bekaert has the resources to take your business as far as you want to go. The Firm's industry specialists already know your marketplace, so they can help you make the most of emerging opportunities while minimizing compliance headaches. With their down-to-earth style and wealth of practical advice, you will find Cherry Bekaert an indispensable part of your team.
Ranked among the largest accounting firms in the country, Cherry Bekaert specializes in offering solutions that impact their clients' ability to grow. For more than 65 years, global corporations, private businesses, government entities, nonprofits, emerging firms and successful individuals have relied on Cherry Bekaert to guide them forward as their growth partner. http://www.cbh.com