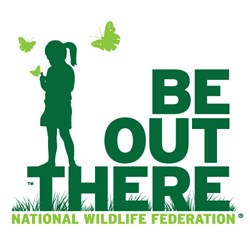 Kids spend, on average, fewer than thirty minutes outside playing, and a whopping seven hours in front of a screen each day.
Reston, VA (PRWEB) August 16, 2013
National Wildlife Federation and The Motherhood announced today the publication of Be Out There: Cool Ideas for Hot Summer Days, an e-book written by 15 mom bloggers and their online communities to help families get their kids outside more.
"Kids spend, on average, fewer than thirty minutes outside playing, and a whopping seven hours in front of a screen each day," said Meri-Margaret Deoudes, vice president of Be Out There at National Wildlife Federation. "The goal of the eBook is for real moms to share their tips, suggestions and stories so we can all find new and better ways to get our kids outside more."
The eBook, which is free and now viewable online, features crowd-sourced tips from the mom bloggers and their online communities on:

Balancing Screen Time with Green Time
Cool Activities for Hot Summer Days
Outdoor Time in Everyday Life
Nighttime Activities
Celebrating Special Occasions in the Great Outdoors
"The Motherhood and NWF conducted a survey of social media moms in June 2012 and found that 94 percent of moms think kids are not spending enough time outdoors," said Emily McKhann, co-founder of The Motherhood. "One-third of moms feel guilty that their kids aren't spending more time outside."
According to the mothers surveyed by The Motherhood, the biggest impediments to getting kids outside were: weather (61 percent), safety concerns (38 percent) and technology (36 percent). The significant focus on weather as the number one barrier for families to outdoor time inspired the creation and publication of the eBook.
To view the eBook online, click here.
The blogger authors:
The authors hail from New York City, Los Angeles, Seattle, and a dozen urban and rural areas in between. Their message is one reflected in the mission of the Be Out There movement: Whether you live in a city or the countryside, you can find plenty of wonderful ways to spend time outdoors. Find them on their blogs:
Andrea Updyke, Li'l Kid Things
Brett Martin, This Mama Loves
Caryn Bailey, Rockin' Mama
Fadra Nally, All Things Fadra
Heather Hopson, Diary of a First Time Mom
Holly Ambrose, Tropic Home and Family
Jennifer Matuska, Mommy Instincts
Kimberly Coleman, Mom in the City
Louise Bishop, MomStart
Marianna Nichols, Green Mama's Pad
Molly Balint, MommyCoddle
Nickida Stephens, Nicki's Random Musings
Piera Jolly, Jolly Mom
Tiffany Merritt, Stuff Parents Need
About The Motherhood
The Motherhood is a digital PR and marketing firm and a network of high-level social media mom influencers. The Motherhood provides social media consulting, opinion research and marketing services to more than 100 Fortune 500 companies and national non-profit organizations, and includes a network of more than 14,000 active social media mothers and fathers. The Motherhood is known for its deep commitment to creating positive and productive ways for mothers across the web to get into action on behalf of causes they believe in.
About Be Out There
Be Out There™ is National Wildlife Federation's movement to reconnect families with the outdoors. NWF's practical tools and information help make being outside a fun, healthy and automatic part of everyday life. For other helpful resources and to learn more about NWF's goal to get 10 million more kids spending regular time outside, please visit: http://www.BeOutThere.org.