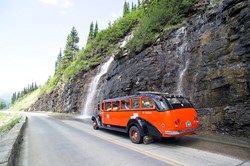 "Our experience is perfectly suited to the job of preserving this national treasure."
Denver, Colo. (PRWEB) August 15, 2013
Xanterra Parks & Resorts has been awarded the contract to operate concessions in northern Montana's Glacier National Park beginning in early January 2014. The 16-year Glacier National Park contract was announced by the National Park Service.
The contract includes the operations of five lodges with approximately 500 rooms and cabins; four restaurants with more than 500 seats, five retail outlets, tours of the park in 33 historic White Motor Company Red Buses, and ancillary services including a hikers shuttle, laundry and showers.
The lodges are the historic Many Glacier Hotel and Lake McDonald Lodge plus the Apgar Village Inn, Rising Sun Motor Inn and Swiftcurrent Inn.
"Glacier National Park has long been one of the National Park Service's crown jewels, and all of us at Xanterra Parks & Resorts are privileged to be granted the opportunity to take the helm of the park's concession operations and expand our partnership with the National Park Service," said Andrew N. Todd, president and CEO of Xanterra. "Our experience is perfectly suited to the job of preserving this national treasure. We look forward to commencing our operations at Glacier, implementing our award-winning sustainability programs and serving the many park visitors."
The contract includes numerous improvements. Some lodge rooms will receive new furnishings and several rooms will be renovated, and some of the park's famous Red Buses will be rehabilitated. Food and beverage operations will also be improved, and Xanterra will be focusing on offering healthy, sustainable menu items in line with its restaurant operations in other locations.
This is the latest in a series of high-profile acquisitions for the global travel company, which has added several other major operations to its portfolio in the last few years, including Windstar Cruises, Kingsmill Resort, VBT Bicycling and Touring, and The Grand Hotel in Tusayan, Ariz., the gateway to the Grand Canyon. Xanterra was also recently awarded the 20-year contract to operate concessions in Yellowstone National Park.
With the addition of the operations in Glacier National Park, Xanterra's worldwide operations will include 34 hotels with 6,128 rooms or cabins, 89 food and beverage outlets and 61 retail stores.
About Glacier National Park.
The 10th national park in the U.S., Glacier was designated a national park in 1910. Like in many early parks, tourism was tied to a railroad. The Great Northern Railway recognized the need for visitor services in this pristine part of the country on the Canadian border, so the railway built several classic lodges such as the Many Glacier Hotel and Lake McDonald Lodge.
The park crosses the Continental Divide and is surrounded by two national forests plus the Blackfeet Indian Reservation, which has strong ties to the land.
The 1 million-acre park draws about 2 million visitors per year, who come to experience the famous Going-to-the-Sun Road; enjoy the breathtaking views of its many glaciers; watch its wildlife, including many endangered or threatened species; and enjoy active outdoor adventures like hiking and fishing.
A Brief History of Xanterra
Like many U.S. companies with a long and significant history, Xanterra Parks & Resorts' corporate family tree has many branches. Visionary and company founder Fred Harvey partnered in 1876 with the Atchison, Topeka and Santa Fe Railway to fill the need for high-quality food for rail travelers. Harvey Houses built at stops along the railroad provided good food served quickly, a new experience for train passengers who had previously had only poor-quality food available during their trips to destinations in the American West. In the early part of the 20th century, the Fred Harvey Company began expanding its operations to include concessions in national parks as well as other tourism businesses nationwide. Xanterra purchased the Fred Harvey Company in 1968, and in 1995 Xanterra acquired TW Recreational Services, making the company the largest national and state park operator in the U.S. In 2008 Xanterra was acquired by the Denver-based Anschutz Company.
##
Known for its "Legendary Hospitality with a Softer Footprint," Xanterra Parks & Resorts® entities include lodges, restaurants, tours and activities in national and state parks and resorts as well as a cruise line, railway and tour operator. Xanterra Parks & Resorts has operations in the Grand Canyon, including Grand Canyon Railway and The Grand Hotel in Tusayan, Ariz.; Yellowstone; Zion; Crater Lake; Rocky Mountain and Petrified Forest National Parks; Mount Rushmore National Memorial; Furnace Creek Resort in Death Valley National Park and five Ohio State Park Lodges as well as the Geneva Marina at Ohio's Geneva State Park. Xanterra Parks & Resorts also operates Kingsmill Resort in Williamsburg, Va., Windstar Cruises and VBT Bicycling and Walking Vacations.